Macron mulls state of emergency after riot
http://www.bbc.co.uk/news/world-europe-46417991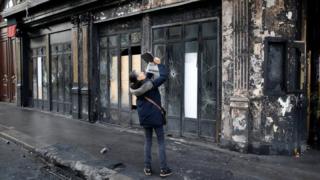 French President Emmanuel Macron will lead an urgent security meeting on Sunday, following a day of riots by hundreds of anti-government protesters in Paris.
A government spokesperson said a state of emergency could be imposed to tackle the unrest.
Protests over fuel tax have grown into general anger at higher living costs.
While some demonstrators have remained peaceful, others clashed violently with police and scaled the Arc de Triomphe.
More than 100 people were injured, including 23 members of the security forces, on Saturday.
Police say more than 400 people were arrested.
Mr Macron returned from the G20 summit in Argentina on Sunday morning and went straight to the Arc de Triomphe to assess the damage.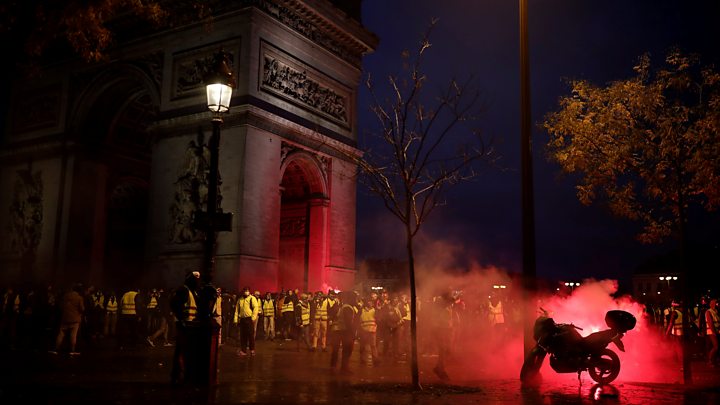 Government spokesman Benjamin Griveaux told Europe 1 radio that a state-of-emergency declaration was a possible option. "We have to think about the measures that can be taken so that these incidents don't happen again," he said.
Who are the protesters?
The protesters are known as the "gilets jaunes" (yellow vests), because they have taken to the streets wearing the high-visibility clothing that is required to be carried in every vehicle by French law.
Their core complaint is a hike in petrol taxes. President Macron says his motivation for the increase is environmental, but protesters call him out of touch – particularly with non-city dwellers who rely on their cars.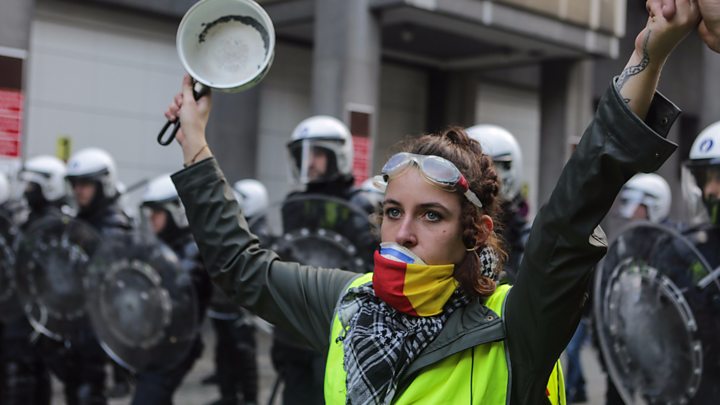 The protest movement has no identifiable leadership and has gained momentum via social media, encompassing a whole range of participants from the anarchist far left to the nationalist far right, and plenty of moderates in between.
Nearly 300,000 people took part in the first country-wide demonstration, on 17 November.
What happened on Saturday?
The "yellow vest" protesters rallied for a third weekend on Saturday, with Paris again the focus.
On the Champs-Elysées, police fired tear gas, stun grenades and water cannon, while masked protesters hurled projectiles and set buildings on fire.
Nearly 190 fires were put out and six buildings were set ablaze, the interior ministry said.
Department stores and metro stations were closed as a result of the violence.
What has President Macron said?
On Saturday, Mr Macron said the protests "had absolutely nothing to do with a peaceful demonstration of a legitimate unhappiness or discontent."
He said those responsible did not want change, but instead intended to "wreak chaos".
He has long maintained that his fuel policies are needed to combat global warming and has accused his political opponents of hijacking the movement in order to block his reform programme.
Earlier this week, Mr Macron tried to strike a conciliatory tone, saying he was open to ideas about how the fuel tax could be applied.
What has angered drivers?
The price of diesel, the most commonly used fuel in French cars, has risen by around 23% over the past 12 months to an average of €1.51 (£1.32; $1.71) per litre, its highest point since the early 2000s.
World oil prices did rise before falling back again but the Macron government raised its hydrocarbon tax this year by 7.6 cents per litre on diesel and 3.9 cents on petrol, as part of a campaign for cleaner cars and fuel.
The decision to impose a further increase of 6.5 cents on diesel and 2.9 cents on petrol on 1 January 2019 was seen as the final straw.