Labour threatens no confidence vote
http://www.bbc.co.uk/news/uk-politics-46416591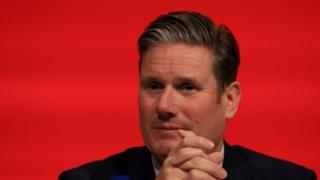 Labour has said it will "inevitably" call a motion of no confidence in the government if Theresa May loses a Commons vote on her Brexit deal.
Shadow Brexit secretary Sir Keir Starmer told Sky News his party would seek to force a general election.
Environment Secretary Michael Gove insisted Mrs May could still win the vote on 11 December despite dozens of her own MPs being against her EU deal.
He told the BBC's Andrew Marr winning the vote would be "challenging".
But although Mrs May's deal was not perfect, "we have got to recognise that if we don't vote for this, the alternatives are no deal or no Brexit."
Asked if Mrs May would have to stand down as PM is she lost the vote on her deal in nine days time, he said: "Absolutely not."
He claimed there was a "strong movement behind the prime minister" among the public.
Sir Keir Starmer said: "If the prime minister has lost a vote of that significance then there has to be a question of confidence in the government."
"I think it's inevitable that we would seek to move that," he added.
Under the Fixed Term Parliaments Act, if the government loses a vote on a motion of no confidence it has 14 days to pass a second confidence motion, or Parliament is dissolved and a general election is called.
Meanwhile, a cross-party group of 17 MPs, in a letter published in the Observer, called for Parliament to support another referendum at the earliest opportunity.
And all the opposition parties in the Commons plan to join forces in a bid to force the government to publish the full legal advice it received ahead of the Brexit agreement.
Sir Keir said they would press for contempt of Parliament proceedings if MPs are not shown the advice.
Mrs May has promised MPs only a summary of the legal position.
But some MPs believe the full advice given suggests the Northern Ireland "backstop" would continue indefinitely.
What is the legal advice row about?
Last month MPs approved a motion demanding full publication of the government's legal advice.
But on Monday Attorney General Geoffrey Cox, who wrote the advice, will offer only a limited summary of the legal advice given to government, during a statement to Parliament.
Ministers insist it is a long-standing convention that legal advice to the cabinet is kept confidential, and that government would otherwise be unable to function.
The prime minister's refusal to release the full advice prompted Northern Ireland's Democratic Unionist Party – which has propped up Mrs May's government since the general election in 2017 – to accuse her of having "something to hide".
Shadow Brexit secretary Sir Keir wrote in the Sunday Telegraph: "If the full legal advice is not forthcoming, we will have no alternative but to start proceedings for contempt of Parliament – and we will work with all parties to take this forward.
"The full legal implications of this deal clearly need to be known and debated in full by our Parliament."
If contempt proceedings were requested, it would be up to Commons Speaker John Bercow to decide whether a debate and vote should be held.
BBC political correspondent Ben Wright said: "The argument threatens to further complicate a vital week for the government as the debate begins on the deal Theresa May is trying to sell to deeply sceptical MPs on all sides of the House."
What do the PM and others say?
Mrs May insists the agreement's legal text is clear that any backstop – keeping the UK under EU customs rules until a permanent trade deal was in place – would be temporary.
However, her former Brexit secretary Dominic Raab told the Sunday Times the backstop would last indefinitely – for as long as it takes to negotiate a new UK-EU relationship – "unless the EU allows us to exit".
"The EU has a clear veto, even if the future negotiations stretch on for many years, or even if they break down and there is no realistic likelihood of us reaching agreement," he is quoted as saying.
"That's my view as a former international lawyer, but it is consistent if not identical with all the formal advice I received."
The row comes ahead of a crucial week for Mrs May, who faces opposition to her Brexit agreement from all sides of the Commons, with MPs due to vote on 11 December.
She spent much of last week trying to sell the deal to business people and the wider public, visiting Wales, Northern Ireland and Scotland.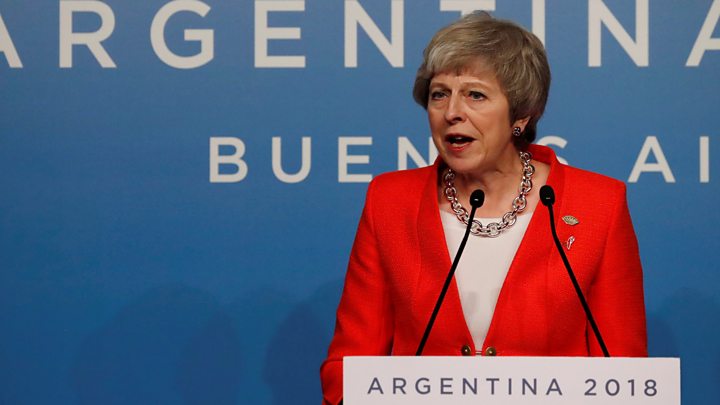 At the G20 summit in Argentina she sought to reassure world leaders that the deal would be "good for the global economy".
Speaking in Buenos Aires on Saturday, Mrs May said: "The next nine days are a really important time for our country leading up to the vote on this deal.
"I will be talking with members of Parliament obviously and explaining to them why I believe this is a good deal for the UK."
Support for May's deal seems to be shrinking
By Laura Kuenssberg, BBC political editor
There's been something completely surreal about watching Theresa May this week – hobnobbing with world leaders, discussing future trade arrangements and climate change, confronting the Saudi Crown Prince over the murder of the journalist Jamal Khashoggi.
But her efforts on all of those important discussions may prove entirely irrelevant if, in the next nine days, she can't persuade enough of her colleagues at home to come on board.
Because support for the prime minister's Brexit compromise seems to be shrinking, rather than growing.
If Theresa May acknowledges it in private, she certainly won't touch that notion in public.
Who is calling for another referendum?
Science minister Sam Gyimah – who became the government's 10th resignation since Mrs May outlined her vision of Brexit – said another referendum should now be considered.
That has been reiterated by a group of cross-party MPs, including Conservative Anna Soubry, Labour's Chuka Umunna and the Lib Dem's Norman Lamb, who in a joint letter said another referendum was the only way to break the parliamentary stalemate.
It read: "We call on all party leaders and Parliament to trust the people with the final say so we can face the future united."
Mrs May has repeatedly refused calls to put the issue of EU membership back to a public poll. Instead, she is focused on trying to win next week's Commons vote.