What to look for in Ariana Grandes video
http://www.bbc.co.uk/news/world-us-canada-46408372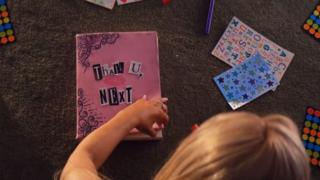 Ariana Grande has released a music video for her latest hit Thank U, Next and the internet is abuzz, dissecting all the cultural references.
The self-love anthem had over 9 million views in four hours. The track has stayed at the top of the Billboard Hot 100 since its release three weeks ago.
Here are five things to know about the five-and-a-half-minute video, which the singer teased fans with for weeks.
Warning: There is strong language in the music video below.
1) Paying homage to teen rom-coms
Grande parodies some classic noughties films in Thank U, Next.
Opening up the video is teen hit Mean Girls, with Grande transforming into high-school queen bee Regina George and recreating that raunchy talent show dance.
She then morphs into Elle Wood, valley girl and Harvard Law student from Legally Blonde.
The original Elle, Reese Witherspoon, enjoyed the re-imagined scenes from the 2001 comedy about a blonde sorority girl hoping to win back her ex-boyfriend by getting a law degree.
Then comes that cheerleading classic Bring It On and its cheer-off between the Toros and Clovers.
And finally – if three films weren't enough – comes 13 Going On 30.
2) The stars making cameos
Well hello, momager Kris Jenner as Amy Poehler's "cool mom" character from Mean Girls.
We also have romantic interest Jonathan Bennett (aka Aaron Samuels) in the Mean Girls sequence.
Another love interest cameo is in Bring It On's tooth-brushing scene – with Grande's former Victorious co-star Matt Bennett.
And the video also featured Jennifer Coolidge (aka Paulette Bonafonté) from Legally Blonde and that iconic bend and snap move.
3) The exes
Thank U, Next has been described as an ode to all boyfriends past as it came into creation after Grande and Pete Davidson ended their engagement (read to the end if you're curious about who dumped whom).
But the comedian is not the only ex to get a shout-out.
In the opening part of the video, the singer name-drops four and uses the Mean Girls' infamous Burn Book to highlight her thoughts on three of them.
Pete Davidson is huuuuuge – ahem – and we will leave that to you to decipher that one for yourselves.
Big Sean is described as "so cute" and "so sweet" – and in case you can't read it, the last bit says "could still get it".
Ricky Alverez is a great dancer apparently, and the pair will be friends forever.
Finally, her fourth ex, Mac Miller, who died in September from a drug overdose, is called an angel and is not given a page in the Burn Book.
4) The opening sequence
It features Mean Girls' "army pants and flip flops" girl (aka Bethany Byrd) and the singer Troye Sivan – but what is the opening sequence actually about?
The general consensus on the net is that Grande is poking fun at the public's curiosity about her personal life by recreating the gossip sequence about ultimate mean girl Regina George.
5) Things you might have missed
So beady-eyed viewers may have spotted the following:
The TUN initials on Grande's cheerleading uniform stand for Thank U, Next.
Another costume-related Easter Egg is her Mean Girls shirt, which says "A Little Bit Needy". In the original film, Rachel McAdams wore a shirt that said "A Little Bit Dramatic".
In her Legally Blonde entrance, Grande drives a Porsche with a licence plate that says "7 Rings" – the internet thinks this is a reference to friendship rings she and her six best friends have.
And finally – for those patient readers – the devil is in the detail. On Davidson's Burn Book page, Grande wrote "sry, I dipped". Translation: she's sorry, she dumped him.