Riot police clash with Paris protesters
http://www.bbc.co.uk/news/world-europe-46411699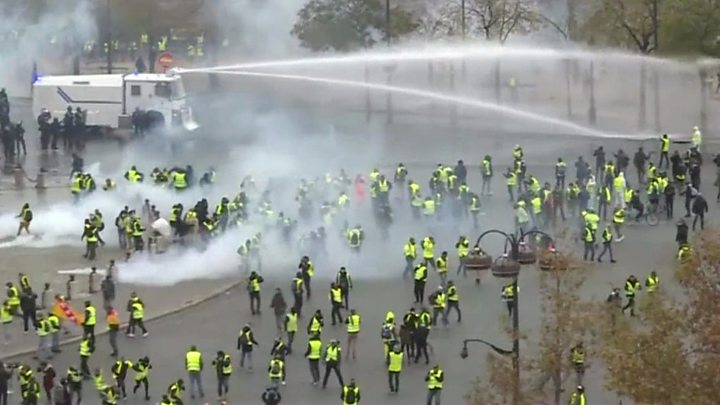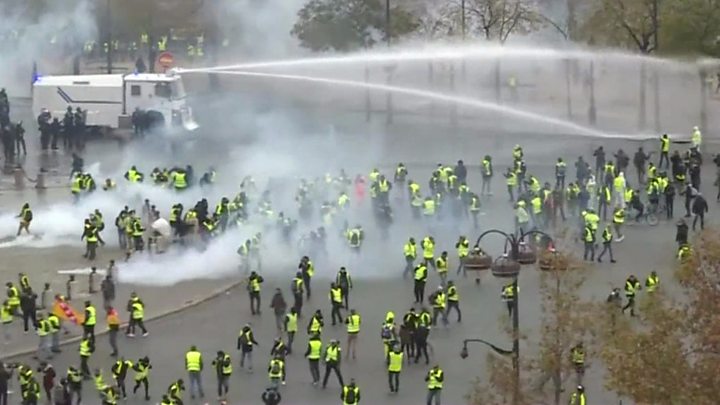 Police and protesters have clashed in Paris during a third weekend of "yellow vest" demonstrations sparked by rising fuel prices.
Police fired tear gas while several officers had yellow paint thrown at them. At least 39 people were arrested.
Thousands of people have been taking to the streets in protest at fuel costs and the high cost of living.
President Macron struck a conciliatory tone earlier in the week but said he would not abandon his fuel tax.
He said it was a key part of France's future energy strategy to combat global warming, but added that he was open to ideas about how the tax could be applied.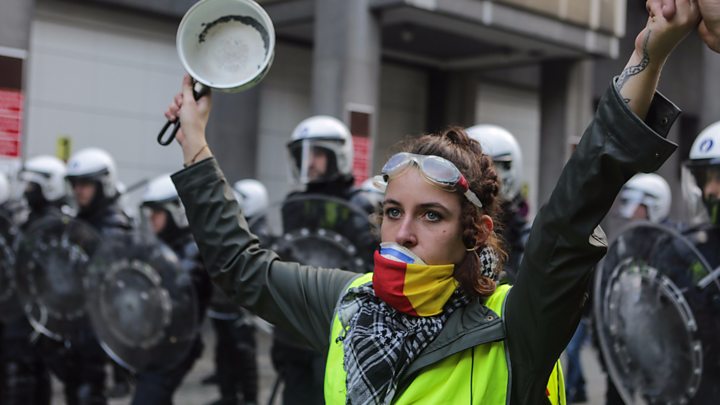 But his speech does not appear to have gone far enough in assuaging people of the view that he is out of touch with ordinary people.
What is the latest on the clashes?
Saturday's clashes began even before the official demonstration started in central Paris, as police locked down the popular tourist avenue of Champs Elysees and searched people as they were going in.
Several shops, banks and cafes had boarded up their windows in anticipation of the protest.
Police fired tear gas to disperse protesters – some wearing face masks – who were trying to tear down the barricades. A number of police officers, wearing protective gear and helmets, were spattered with vivid yellow paint.
Interior Minister Christophe Castaner, who visited the scene, tweeted that there were "200 peaceful demonstrators" and "1,500 agitators outside the security perimeter who came to fight". He put the number of arrests at 39.
What are the protests about?
The gilets jaunes (yellow vest) rallies began in early November and were originally about the fuel tax increases. Protesters donned the yellow vest required to be carried in every vehicle by law and blocked roads, causing widespread traffic jams.
But the movement has grown via social media to encompass rising anger at high taxes and living costs, and broader criticism of President Macron's economic policies. It has supporters across the political spectrum, from far left to far right, although Mr Macron has accused his political opponents of hijacking the movement in order to block his reform programme.
Nearly 300,000 people took part in the first country-wide demonstration, on 17 November.
Most demonstrators have remained peaceful. But one person died during the protests when they were struck by a panicked driver. A few days later, a motorcyclist was also killed when they were hit by a van making a sudden turn in the traffic chaos.