Russia-Ukraine crisis clouds G20 summit
http://www.bbc.co.uk/news/world-latin-america-46395758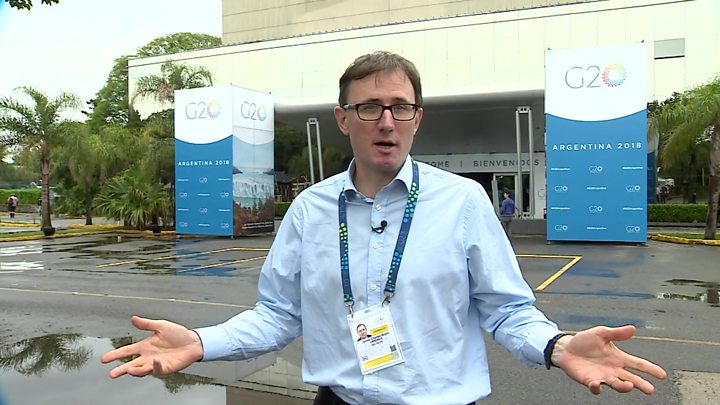 World leaders are gathering in Argentina for their annual G20 summit amid new tension with Russia over Ukraine and a US trade row with China.
US President Donald Trump has cancelled a meeting with his Russian counterpart, Vladimir Putin, in protest at Russia's seizure of Ukrainian naval boats.
Hopes of progress over tariffs in Mr Trump's expected talks with Chinese leader Xi Jinping have been dampened.
The trade war between the two economic giants may possibly even escalate.
The summit is also a diplomatic test for Saudi Crown Prince Mohammed bin Salman amid continuing questions about the Saudi state's possible involvement in the murder last month of journalist Jamal Khashoggi in Turkey.
Meanwhile, a massive security operation is under way for the summit in the Argentine capital, Buenos Aires, where a bank holiday has been declared for Friday and the city's main business district has been shut down.
Who may have a 'couple of extra hours' free at the summit?
Russia captured three Ukrainian naval vessels and 24 personnel in the Black Sea this week after accusing them of trespassing.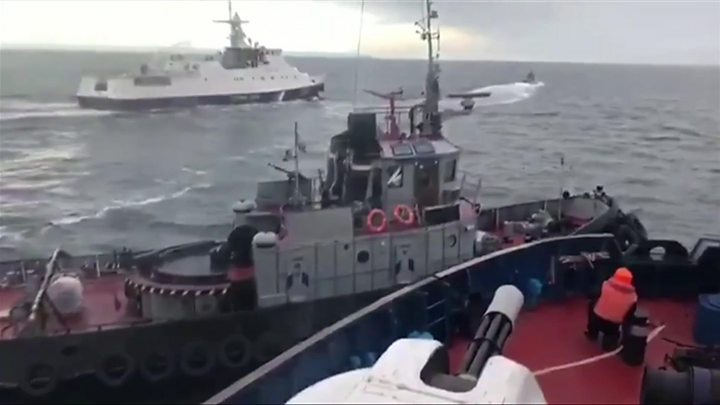 Mr Trump said he would not meet the Russian leader "based on the fact that the ships and sailors have not been returned".
Mr Putin's spokesman, Dmitry Peskov, responded: "If this is so, the president will have a couple of extra hours in the programme for useful meetings on the sidelines of the summit."
German Chancellor Angela Merkel blamed the crisis "entirely" on Russia and said she would raise the issue with Mr Putin.
Mrs Merkel's own arrival at the summit has been delayed by a technical fault in her plane.
How intense is the trade war?
President Trump said recently that current tariff levels on $200bn (£157bn) of Chinese imports would rise as planned.
He also threatened tariffs on $267bn of other Chinese exports to the US.
Speaking to reporters at the White House, he said that while China was interested in striking a deal, "I don't know if I want to do it" and "I like the deal we have now".
The US has hit a total of $250bn of Chinese goods with tariffs since July, and China has retaliated by imposing duties on $110bn of US products.
"I think the most likely scenario is that [Chinese President] Xi Jinping doesn't offer big enough concessions to Trump, and so nothing much comes of the G20 meeting," said Julian Evans-Pritchard from Capital Economics.
What can Crown Prince Mohammed expect?
International indignation over Khashoggi's murder, which was carried out inside Saudi Arabia's consulate in Istanbul on 2 October, continued on Thursday as Canada slapped sanctions on 17 Saudi nationals allegedly linked to his murder.
British Prime Minister Theresa May has said she will meet the crown prince and deliver a "very clear" message.
"In relation to Mr Khashoggi, we want to see a full and transparent investigation of what happened and those responsible being held to account," she said.
Just what is the G20?
The Group of Twenty brings together leaders of 19 of the world's most industrialised nations plus the EU.
Argentina, Australia, Brazil, Canada, China, France, Germany, India, Indonesia, Italy, Japan, Mexico, Russia, Saudi Arabia, South Africa, South Korea, Turkey, the UK and the US are all represented.
The focus of the two-day summit opening on Friday is "fair and sustainable development", according to the event's website.
Last year's summit, in the German city of Hamburg, was marred by violent protests.
In Buenos Aires, which hosts the first G20 meeting to be held in South America, more than 20,000 police have been deployed to maintain order.
Bad timing for Argentina's leader
By Katy Watson, South America correspondent, BBC News
This was meant to be a big moment for Argentina. A chance to show world leaders that with Mauricio Macri at the helm, the country meant business.
When he was elected in 2015, Mr Macri promised market-friendly reforms to get Argentina's isolated economy back on track.
Fast-forward three years and he's hosting this summit in a new political era – one where protectionism and populism, not globalisation, are the order of the day.
And while over the next few days Mr Macri will want to make a good impression for his visitors, he's struggling with his reputation closer to home.
Inflation is high, economic growth is sluggish, the peso has plummeted and the country has had to rely on a $57bn loan from the deeply unpopular IMF to try to get itself out of the crisis. It's not great timing for a president who is expected to seek re-election next year.