May rejects alternatives to Brexit deal
http://www.bbc.co.uk/news/uk-politics-46394431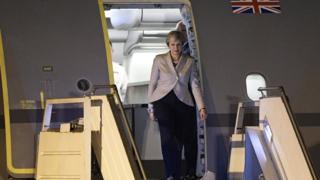 Theresa May has rejected alternatives to her Brexit deal, urging MPs to think about the consequences for their constituents of voting it down.
The PM, who is in Argentina for a G20 summit, ruled out moving to a Norway-style deal with the EU, an idea being promoted by some Tory MPs.
She said this was unacceptable as it would see freedom of movement continue.
Labour argues a better deal could still be done but the PM has said they have not put forward a proper alternative.
By threatening to oppose her deal in a Commons vote on 11 December, Mrs May said Labour were effectively advocating leaving without a deal.
The Labour leadership has said it is ready to support a cross-party amendment to the vote that would rule out no-deal.
The amendment would not be binding but it would be hard for the PM to ignore it, if it is passed by Parliament.
Leading Tory Brexiteer Jacob Rees-Mogg has, meanwhile, warned against efforts to "frighten" people into backing what he called "a non-Brexit Brexit", in the Daily Telegraph.
May's deal versus the alternatives?
It is widely expected that MPs will reject the EU withdrawal agreement and blueprint for a future trade deal agreed with the EU.
In anticipation of this happening, some MPs are trying to mobilise support for the so-called "Norway Plus" option, which they claim could win support across the House of Commons.
Under their plan, the current withdrawal agreement would be honoured but the UK would seek to rejoin the European Free Trade Association, which it belonged to before entering the European Economic Community in 1973 – on an indefinite basis.
If EFTA's existing members – Switzerland, Norway, Liechtenstein and Iceland – agreed, it would allow the UK to retain membership of the customs union and full access to the single market.
Advocates of the plan say the UK would still be outside the Common Agricultural Policy and the Common Fisheries Policy – but it would also mean continued free movement of people.
Speaking to reporters on her flight to Buenos Aires, Mrs May said this kind of deal would not fulfil the referendum pledge to take back control of the UK's borders, laws and money.
"Let's focus on the deal that we have negotiated with the EU, a deal which is good for the UK and good for their constituents," she said.
But three former Labour foreign secretaries have warned of the damage to British influence around the world if the UK leaves the EU.
David Miliband, Jack Straw and Margaret Beckett told the Financial Times they all backed the People's Vote campaign for another referendum.
Mr Straw told the BBC he believed there was a "huge appetite" among the public to have their say again.
"At the moment, people are having to go sullenly to accept the situation is as it is – not remotely anticipated by the Brexiteers nor anything like that which was promised," he told Radio 4's Today.
Analysis: No clues over possible 'Plan B'
By Laura Kuenssberg, BBC political editor
However many ways the question was put to Theresa May during a 20-minute press huddle on board the government's Voyager plane, she was resolutely and determinedly not going to let much slip.
What will she do if she can't get her vote through? Is there a plan B? Could there be a Norway-style relationship with the EU? Could there be another referendum?
Westminster's awash with speculation and gossip about what might happen next if her Brexit compromise is killed off by her colleagues.
How May will explain Brexit to G20?
Mrs May is due to join US President Donald Trump, China's President Xi Jinping and Japan's Shinzo Abe as well as European Council President Donald Tusk and European Commission chief Jean-Claude Juncker at the two-day summit of the G20 group of leading economies.
She is expected to tell world leaders her Brexit deal negotiated with the EU will be good for the global economy.
Mrs May will highlight her plans to strike a free trade agreement with the EU.
But she will add: "For the first time in more than four decades, the UK will have an independent trade policy.
"We will play a full and active role on trade on the global stage, working with friends new and old, at a time of unprecedented global inter-connectedness."
The summit comes after President Trump suggested that the negotiated deal could threaten any future US-UK trade deal.
Ministers step up efforts to sell deal
In a speech later in Bristol, International Trade Secretary Liam Fox will argue that while the deal will not please everyone, critics "are yet to face up to" the "tough choices" she had to make.
Mr Fox told the BBC that the PM was "changing the public mood" and while there were alternatives to her deal which would give the UK a freer hand to strike other trade deals but that could come with a "price" in terms of reduced access to EU markets.
The Financial Times says Mrs May is enlisting the support of senior Brexiteers such as Michael Gove and Geoffrey Cox to try and sell her controversial Irish "backstop" plan to sceptical Tory MPs.
Mr Fox said he was not "enthusiastic" about the backstop, which could see the UK enter a customs partnership with the EU until its future relationship is sorted out and without the unilateral right to pull out.
But he insisted the chance of the backstop, described as an "insurance policy" by Mrs May, actually coming into force was slight as it was just as "unpalatable" to other EU members, including the Republic of Ireland.
And Treasury minister Liz Truss, who is backing Mrs May to get the agreement through Parliament, suggested parts of it could be renegotiated after the UK left the EU.
"We can do what we want," she told the Daily Mail. "Some things are set in treaties but no parliament can bind its successor."