Outrage as woman shamed for breastfeeding
http://www.bbc.co.uk/news/world-asia-india-46382157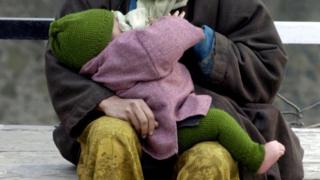 There has been outrage in India after the management of a mall in the eastern city of Kolkata told a shopper wanting to breastfeed her baby to do such "home chores" at home and "not in the mall".
The mall authorities' comments were made on Facebook after the woman wrote a post on their wall complaining that there was no designated feeding area.
The response angered many who said it amounted to shaming the new mother.
Women breastfeeding in public is a common sight in India.
Abhilasha Arup DasAdhikari first shared her experience on Tuesday. She wrote on the Facebook page of the South City Mall that there was no place to breastfeed and that the staff at the mall had suggested that she feed her baby in the toilet. She described the idea as "disgusting" and gave the mall a poor rating.
The manager of the page responded by saying that breastfeeding was not allowed in shops and that Ms DasAdhikari should have planned her day better as her baby did not need to be breastfed "at any moment".
The post and the comments have since been deleted but a screenshot has been shared widely.
The management of South City Mall has since apologised and said that they do have a feeding and changing room for babies on every floor.
The mall's vice president Manmohan Bagri told the Times of India newspaper that the response to Ms DasAdhikari was posted by an employee of the social media agency that managed the official handles. "The rude and aggressive reply was posted without our consent. We have removed the agency," he was quoted as saying.
But the Facebook page of the South City Mall continues to be filled with comments criticising their response to Ms DasAdhikari.
At least two other young mothers wrote in, saying they too had found it difficult to find a place to breastfeed in the mall – a facility that some of them said was available in many other malls.
One woman, Trisha Ghosh Moitra, who shared the screenshot on Facebook, said in an accompanying post that she too had posted earlier about the mall not having "basic amenities" for feeding babies or changing diapers.
She said the mall's response to Ms DasAdhikari had made her "speechless with anger".
"The insensitivity seeping through is ridiculous. Babies are not home chores, and yes they need to be fed whenever they want, to survive," she wrote.
Every post on the mall's Facebook wall over the past few days, no matter what it's subject, has attracted related comments. A post about handbags, for instance, led one woman to ask if mothers were allowed to shop at the mall or should they first take care of the "household chore of breastfeeding". Another woman commented on a post about suitcases, asking if there was space inside one of them to breastfeed a baby.
Some people have directly appealed to retail chains that have stores inside the mall, asking them to allow mothers to breastfeed in their trial rooms, while others have said brands should consider closing their outlets within the mall.
Many women in India who wear the traditional sari breastfeed in public, using the garment as a means of covering themselves. In a country of 1.3 billion people, it is not uncommon to see women breastfeeding in public places, including on public transport, in construction sites and on the side of the road.
But breastfeeding in public remains a contentious issue around the world. An Indian magazine that published a picture of a model breastfeeding a baby on its cover had drawn mixed reactions earlier this year.