Alabama mall shooting suspect arrested
http://www.bbc.co.uk/news/world-us-canada-46389885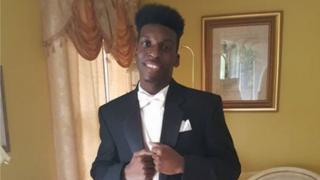 A man suspected of a shooting attack at an Alabama mall is in custody after police admitted killing the wrong man.
Erron Brown, 20, handed himself in on Thursday to authorities in Georgia.
Police originally believed they had shot and killed the gunman at the scene of the attack at the Riverchase Galleria mall on Thanksgiving.
However, they later admitted wrongly killing Emantic Bradford Jr, 21, at the mall in Hoover, Alabama.
Mr Bradford, who had a permit to carry a weapon, had "heightened the sense of threat" at the scene by drawing his gun, police said.
An 18 year old and a 12 year old were wounded in the attack. According to Al.com, Mr Bradford was friends with the older victim, who was seriously injured.
His family have demanded transparency about his death.
Mr Brown was reportedly arrested at a relative's house in South Fulton county near Atlanta, in the neighbouring state of Georgia.
He will be processed there before being returned to Alabama.
The mall attack made national headlines after the police admitted wrongly shooting and killing Mr Bradford at the mall.
It happened just before the Black Friday sales outside a footwear retailer and, according to Al.com, may have been an argument over some training shoes.
As people fled, witnesses reported many people had their own guns out, according to NPR.
When police arrived on scene, a uniformed officer saw Mr Bradford with a firearm and shot him dead, believing him to be the gunman.
Police initially praised that officer as a "hero". But they later admitted their initial report was "not totally accurate".
Mr Bradford's family cited witnesses as saying that he had been trying to help by waving people to safety.
The unnamed officer who killed Mr Bradford during the shooting has reportedly been placed on administrative leave.