Norwegian retains World Chess title
http://www.bbc.co.uk/news/world-europe-46376998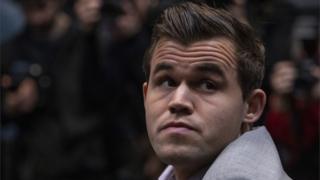 World number one Norwegian Magnus Carlsen has retained his World Chess Championship title, beating US opponent Fabiano Caruana in a tie-breaker event.
He beat Caruana in three time-limited games, ending the American's hopes of becoming the first US champion since Bobby Fischer in 1972.
Both had only 25 minutes on their timers, with 10 seconds added per move.
This showdown followed a record-breaking streak of 12 drawn games of regular chess.
Carlsen, who has won the championship three times before and was the favourite to win the game, took a two-match lead and needed only a draw in the third tie-breaker to seal his victory.
But Caruana resigned in the third as it became increasingly clear the Norwegian would win.
Players needed to win the best of four of these shortened games to take the title.
Carlsen's victory came after he seemed to play for the tie-breaker event in the 12th and final regular game.
The Norwegian is ranked number one worldwide for fast-paced games, whereas Caruana is ranked at number 18.
Former world champion Garry Kasparov had tweeted that he thought the Norwegian was losing his nerve.