Lion Air should improve safety culture
http://www.bbc.co.uk/news/world-asia-46121127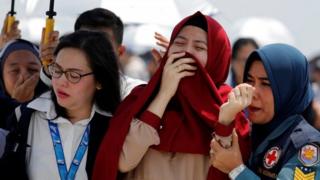 Indonesian authorities have recommended that budget airline Lion Air improve its safety culture, in a preliminary report into last month's deadly crash.
On 29 October flight JT 610 crashed into the Java Sea shortly after departing Jakarta, killing all 189 people on board.
The report details what is known by authorities about the short time the plane was in the air.
However, it does not give a definitive cause for the accident.
The preliminary report by the Indonesian Transport Safety Committee said the airline should ensure the operations manual is followed "in order to improve the safety culture and to enable the pilot to make proper decision to continue the flight".
It also said the carrier must ensure "all operations documents are properly filled and documented".
The plane was making a one-hour journey to the western city of Pangkal Pinang when it went down.
Investigators had already revealed that the plane had on multiple previous flights experienced technical problems related to airspeed and altitude readings.
Therefore the "angle-of-attack" sensor had been changed the day before the crash.
Wednesday's report confirms the replacement and that the new sensor "had been tested accordingly".
Several media reports have over the past weeks already speculated the wrong readings might have triggered an automatic safety feature of the plane, forcing the nose of the aircraft down.
Victims' families are suing aircraft maker Boeing over alleged faults with the jet's design, focussing on the automated safety feature.
One of the black box recorders from the flight – the flight data recorder- has been retrieved but authorities are yet to locate the cockpit voice recorder which could provide more information about how the pilots reacted.