Trump defends tear gas on Mexico border
http://www.bbc.co.uk/news/world-us-canada-46355258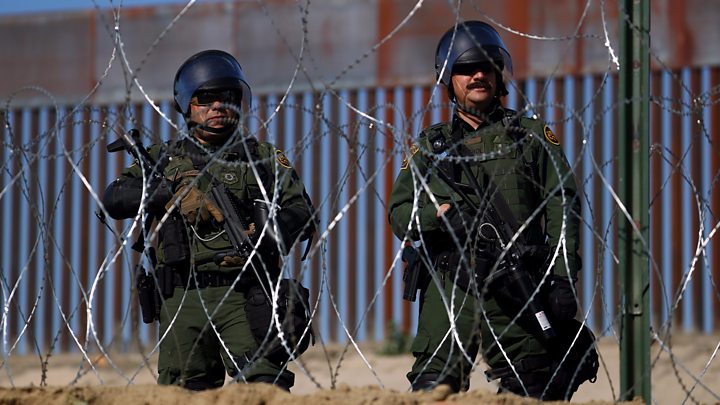 US President Donald Trump has defended the use of tear gas on a crowd of migrants, including children, trying to cross the US-Mexico border on Sunday.
Border agents were forced into action because they were "being rushed by some very tough people", Mr Trump said.
Critics have accused the Trump administration of a draconian response, while Mexico has demanded the US investigate its use of tear gas.
Mexico says it has deported nearly 100 migrants who attempted to enter the US.
Sunday's confrontation broke out after a migrants' march in Tijuana spiralled out of control, with hundreds of migrants attempting to breach barriers separating Mexico from the US.
US Customs and Border Protection, which polices the border, said its personnel had been assaulted and hit by stones.
Women and children were among those trying to protect themselves from tear gas fired by the authorities, sparking condemnation from activists and some politicians.
What did Mr Trump say?
Mr Trump told reporters the border agents were right to use tear gas. "Here's the bottom line: Nobody's coming into our country unless they come in legally."
He added that the gas used was "very safe" and was a "very minor form" of tear gas.
However, this was disputed by some journalists at the scene, who said the tear gas was painful even from a significant distance away.
According to the Centers for Disease Control and Prevention (CDC), tear gas can cause a burning sensation in the eyes and mouth, shortness of breath, and burns or rashes. Prolonged exposure can lead to blindness or breathing problems.
The Chemical Weapons Convention prohibits the use of tear gas in war, but allows it for domestic law enforcement purposes.
Homeland Security Secretary Kirstjen Nielsen has defended the use of tear gas, saying border agents were entitled to "self-defence".
However, Mexico's foreign ministry sent the US government a diplomatic note expressing its concern about the use of non-lethal weapons, and calling for a full investigation.
Mr Trump also questioned why parents had taken their children to the site, and alleged that some of the people at the border were not parents, but "grabbers" who had taken children with them to improve their chances of asylum.
Ms Nielsen accused migrant caravan organisers of using women and children as "human shields" during their encounters with law enforcement, "putting vulnerable people in harm's way".
Mr Trump and Ms Nielsen did not provide evidence for their claims.
What do people at the border say?
About 7,500 migrants have arrived at the US-Mexican border in recent weeks.
The migrants, who are mostly from Honduras, but also from Guatemala and El Salvador, say they are fleeing the threat of violence in their home countries and looking to make a better life for themselves and their families.
A photograph of Maria Meza and two of her daughters escaping tear gas was widely circulated online, and used by several major newspapers.
Ms Meza, from Honduras, said she had not attempted to cross the border, and was only looking across the fence when the tear gas was used.
"I was scared," she told BuzzFeed News. "I grabbed my daughters and ran… I thought my kids were going to die with me because of the gas we inhaled."
Meanwhile, a Honduran migrant at the border told AFP the US authorities had started using tear gas as they neared the border.
"The alarm went off and they began throwing tear gas at us. A person got hit and lots of kids fainted. So some people got rocks and threw them because many kids were fainting."
The migrants have travelled in large groups, dubbed "caravans", for more than 4,000km (2,500 miles) from Central America.
President Trump has vowed to keep each migrant on the Mexican side of the border until courts have decided their cases, meaning some face a long wait.