Mo Salah weighs in on cats and dogs row
http://www.bbc.co.uk/news/world-middle-east-46356719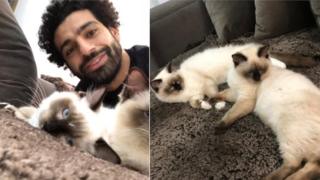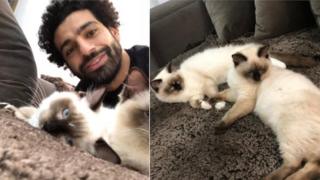 Football star Mo Salah has spoken out against plans in his home nation of Egypt to export stray animals abroad, amid fears they will be used for food.
"Cats and dogs will not be exported anywhere. This won't happen and can't happen," he tweeted, alongside images of his pet Siamese cats.
Animal rights activists reacted with anger over the decision, with many calling for the practice to end.
Stray cats and dogs are widespread in Egypt's streets.
The row began after it was reported last week that Egypt's agriculture ministry had approved the exportation of about 4,000 cats and dogs abroad.
Last Wednesday, private Egyptian newspaper al-Masry al-Youm said the ministry had started issuing health certificates to begin the export process for about 2,400 cats and 1,600 dogs.
A day later, a ministry spokesperson told Egyptian TenTV channel that the animals had been vaccinated against diseases and would be flown out in accordance with legal procedures.
The authorities did not explain which countries they were being sent to, or for what purpose.
Liverpool and Egypt forward Salah, who enjoys widespread popularity in his home country and the wider Middle East region, entered the debate on Tuesday, tweeting with the hashtag "no to animal rights violations".
And many have applauded his input online.
Some responded with images of their own pets, using the same hashtag:
But others argued that Egyptians had bigger things to worry about, with one person suggesting: "Let's look at human rights first, then we can look into animal rights."
Meanwhile, some questioned the viewpoints of those who eat meat but have also joined the campaign against the export of animals:
Last month, politician Margaret Azir caused a stir when she suggested the authorities should fatten up stray dogs and export them abroad as a means to deal with the increasing numbers of strays on the streets of Egypt.
She told privately-owned newspaper Youm7 website that in some places, dogs were "as valuable as sheep".
Read more on Mo Salah
On Friday, the Egyptian authorities denied that the government itself would be exporting any animals – and said that they were only granting the licences for the controversial move.
Spokesman Hamed Abdel Dayem told al-Hadath al-Youm that reports the animals were being transported to countries that will eat them were "baseless".
However, another MP, Nadia Henry, has already submitted a request to parliament to draft a bill which would criminalise the export of dogs and cats.