GM announces job cuts and factory closures
http://www.bbc.co.uk/news/business-46350057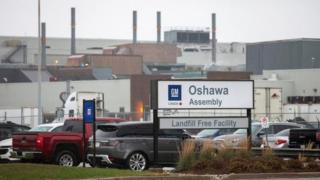 General Motors (GM) plans to halt production at five factories in North America and cut more than 14,000 jobs.
The US carmaker has also announced it will close three plants outside North America by the end of 2019.
The moves follow rising costs and slower car sales and comes as the US carmaker focuses on its line-up of trucks, electric and self-driving vehicles.
The company said the plan would help it save about $6bn (£4.7bn).
The cutbacks include a 15% reduction in the number of its salaried employees, including 25% fewer executives.
The five plants in North America alone employ about 7,000 people currently, including more than 6,000 shift workers.
"The actions we are taking today continue our transformation to be highly agile, resilient and profitable, while giving us the flexibility to invest in the future," said GM chair and chief executive Mary Barra.
"We recognise the need to stay in front of changing market conditions and customer preferences to position our company for long-term success."
What does the restructuring involve?
General Motors currently employs about 54,000 salaried workers in North America – which means the cuts are likely to affect more than 8,000 salaried staff, in addition to the more than 6,000 shift workers at the plants.
The firm said it was cutting production of the Buick LaCross, Chevrolet Volt, Cadillac CT6 and XTS and Chevrolet Impala, as well as older versions of the Silverado and Sierra.
The closures include assembly plants in Oshawa, Canada; Detroit, Michigan and Warren, Ohio; as well as factories in Warren, Michigan and a site near Baltimore in Maryland.
GM had signalled some of its plans previously.
In February, the company said it would close one plant in South Korea. It also offered voluntary buyouts to up to 18,000 workers in October.
The firm said it would name the two additional international plants set for closure later.
What is the response?
On Monday, Prime Minister Justin Trudeau said he called Ms Barra to express his "deep disappointment" in the closure of the Canadian GM plant, which has been in the province of Ontario for a century.
In the US, Senator Sherrod Brown, a Democrat who represents Ohio, called the decision "corporate greed at its worst".
Labour unions in the US and Canada also said they would press the company to allocate more work to the factories, instead of closing them.
"To be clear, [we do] not accept the closure of the plant as a foregone conclusion," labour leaders at the Oshawa factory in Canada wrote to their members.
"Remember, our plant has been in this situation before with no product on the horizon and we were able to successfully campaign for continued operations."
In the US, Terry Dittes, vice president of the UAW, said GM had made a "callous decision" that put "profits before the working families of this country".