Alabama cops new explanation for killing
http://www.bbc.co.uk/news/world-us-canada-46350307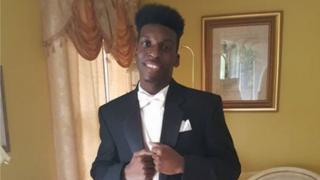 Alabama police say a black man mistaken for an active shooter during a mall shooting had "heightened the sense of threat" by drawing his own firearm after shots rang out.
Emantic Fitzgerald Bradford Jr, 21, had "brandished a gun" as police responded to Thursday's incident at the shopping centre near Birmingham, they said.
Police initially said Mr Bradford, a US Army veteran, was the gunman, before backtracking on Friday.
The actual suspect remains at large.
Protesters and Mr Bradford's family have demanded transparency from police.
Hoover Police Department said on Monday: "We can say with certainty Mr Bradford brandished a gun during the seconds following the gunshots, which instantly heightened the sense of threat to approaching police officers responding to the chaotic scene."
Mr Bradford had a permit to carry a weapon, according to his family. Under Alabama gun law, it is not illegal to carry a firearm in public.
The police department extended its sympathies to Mr Bradford's family, saying he was "shot and killed during Hoover Police efforts to secure the scene in the seconds following the original altercation and shooting".
The tragedy unfolded on the evening of the US Thanksgiving holiday when a gunman shot and wounded an 18-year-old man and a 12-year-old girl at the Riverchase Galleria Mall in the Birmingham suburb of Hoover.
It happened just before the Black Friday sales outside a footwear retailer and, according to Al.com, may have been over some trainers.
As people fled, witnesses reported many people had their own guns out, according to NPR.
When police arrived on scene, a uniformed officer saw Mr Bradford with a firearm and shot him to death, believing him to be the gunman.
Police initially praised that officer as a "hero". But on Friday evening they said their initial report was "not totally accurate".
The updated police statement said: "New evidence suggests that while Bradford may have been involved in some aspect of the altercation, he likely did not fire the rounds that injured the 18-year-old victim."
According to Al.com, Mr Bradford was friends with the 18-year-old who was shot and seriously hurt.
Mr Bradford's family cited witnesses as saying that he had been trying to help by waving people to safety.
The unnamed officer who killed Mr Bradford during the shooting has reportedly been placed on administrative leave.
During a news conference on Sunday, the Bradford family said that Hoover police did not contact them about his death, and they only learned of the shooting through social media.
The family's lawyer, Ben Crump, said on CNN that an officer "made a decision within milliseconds to shoot [Mr Bradford] in his face".
"If you're black and you're a good guy with a gun, the police does not see you as a good guy. They just see you as a criminal and they shoot and kill you."
Mr Crump represented the family of Trayvon Martin, an unarmed black teenager shot dead by a neighbourhood watchman in Florida in 2012.
On Saturday, around 200 protesters marched through the Alabama shopping centre calling for the release of the officer's body camera footage.
Monday's police statement noted that bodycam and other available footage has been turned over to the Jefferson County Sheriff's Department as the investigation continues.
Whether or not those recordings are released is now up to the Alabama Law Enforcement Agency, which is leading the inquiry.
Authorities said they have some information on the initial shooter and are working towards an arrest.
The shooting has reignited a nationwide debate about racial profiling of black Americans.
Earlier this month, police in a suburb of Chicago killed an armed security guard, Jemel Roberson, while he was detaining a suspected gunman.