Mexican officials deny US border deal
http://www.bbc.co.uk/news/world-us-canada-46333119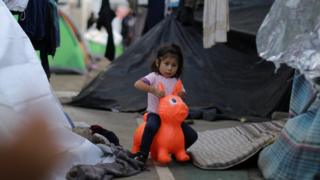 Mexico's incoming foreign minister has said discussions on how to deal with migrants travelling to the United States are continuing despite reports a deal has been reached.
Marcelo Ebrard denied reaching an agreement which would see asylum seekers waiting in Mexico while their claims were processed in US courts.
Mr Ebrard's words seem to contradict US President Donald Trump's latest tweet.
He said migrants would not be allowed entry until their claims were approved.
"Migrants at the Southern Border will not be allowed into the United States until their claims are individually approved in court," Mr Trump wrote, adding: "No 'releasing' into the US. All will stay in Mexico."
The conflicting statements emerged after the Washington Post reported Mexican officials had agreed to let migrants trying to enter the US stay in Mexico while their asylum claims were heard.
According to the newspaper, the plan was called "Remain in Mexico".
But Mr Ebrard, who will become foreign minister in December after Andres Manuel Lopez Obrador's administration takes power, said the US had yet to even send "a specific proposal" on how to deal wit the issue.
He said conversations were still taking place with Washington.
Incoming Interior Minister Olga Sanchez Cordero also told news agency Reuters no agreement had been reached – although the Washington Post article initially quoted her as saying it was a "short term solution" to deal with the migrant caravan.
Thousands of migrants – including women and children – are currently at the US-Mexico border after travelling more than 4,000km (2,500 miles) from Central America.
They say they are fleeing persecution, poverty and violence in their home countries of Honduras, Guatemala, and El Salvador.
Many are now waiting in temporary shelters in the border city of Tijuana, leading the mayor declare a humanitarian crisis. There are fears as many as 9,000 may be stuck in the city for months.
Meanwhile, Mr Trump has deployed about 5,800 troops to the border and has previously described the migrants as an "invasion".