Alabama police admit killing wrong man
http://www.bbc.co.uk/news/world-us-canada-46333970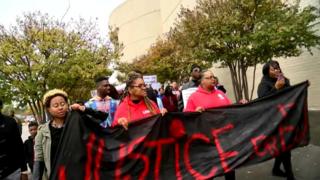 Protesters have demanded answers after Alabama police admitted killing a man who they wrongly suspected of shooting two people in a shopping mall.
Emantic Fitzgerald Bradford Jr, 21, was shot dead at the mall in Hoover.
But on Friday, authorities said Bradford was probably not the gunman, and the actual perpetrator remained at large.
Around 200 demonstrators marched in the Riverchase Galleria on Saturday demanding answers from the police.
"Where is the bodycam footage — why we ain't seen it yet?" one protester said to CBS News.
The policeman who killed Bradford has reportedly been placed on administrative leave.
According to FBI data, a disproportionately high proportion of police shootings in the US involve black people.
What happened at the mall?
The shooting occurred on Thanksgiving night on Thursday.
Police arrived at the scene after an 18-year-old and a 12-year-old were shot by a gunman, as shoppers ran for their lives. The condition of the two victims has not been made public, but both were reportedly treated in hospital.
Authorities announced on Thursday that Bradford was the gunman, and had been brandishing a weapon. A uniformed officer then shot him to death.
However, that story changed on Friday evening when police admitted their initial report was "not totally accurate".
"New evidence now suggests that while Mr Bradford may have been involved in some aspect of the altercation, he likely did not fire the rounds that injured the 18-year-old victim," a statement reportedly read.
Police now believe at least one gunman remains at large. They are continuing to investigate the event.
Who was Emantic Bradford?
Demonstrators marched through the mall on Friday evening, and held a moment of silence at the spot where Bradford was shot dead.
Bradford had received some military training, but he was reportedly discharged from the US Army in August before it was completed.
His mother, April Pipkins, said in an interview on Saturday that her son was licensed to carry a weapon, and that he may have been trying to protect shoppers, the New York Times reported.
According to the Giffords Law Center to Prevent Gun Violence, Alabama does not have laws against public carrying of firearms.
"He was trying to be somebody who helped save people, yet he was killed," Ms Pipkins lawyer, Benjamin Crump said.
A prominent civil rights lawyer, Mr Crump previously represented the family of Trayvon Martin.