Police fire tear gas at Paris protesters
http://www.bbc.co.uk/news/world-europe-46328439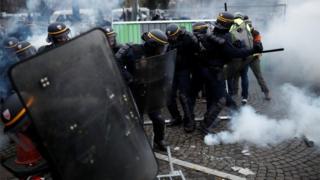 Police in Paris have used tear gas and water cannon to disperse protesters demonstrating for a second weekend against rising fuel prices.
Clashes broke out on the Champs-Elysées despite a police security cordon around sensitive sites in the centre of the French capital.
Some 280,000 people took part in protests at more than 2,000 locations across France last Saturday.
Organisers billed the latest protests as "act two" in their rolling campaign.
Known as "yellow jackets" after their distinctive high-visibility attire, the protesters oppose an increase in fuel duty on diesel.
Several thousand demonstrators assembled on Saturday on the Champs-Elysées, where they came up against a police cordon designed to stop them reaching key buildings such as the prime minister's official residence.
It is part of a large police-enforced perimeter around districts demonstrators are banned from entering.
The authorities say that so far there is no sign the demonstrators have been able to enter unauthorised areas.
Video posted on social media showed firecrackers being thrown at police as protesters shouted slogans calling for President Emmanuel Macron to resign.
Some 3,000 police have been deployed in city. Some estimates suggest 30,000 protesters are expected in the capital.
What lies behind the protesters' anger?
The price of diesel, the most commonly used fuel in French cars, has risen by around 23% over the past 12 months to an average of €1.51 (£1.32; $1.71) per litre, its highest point since the early 2000s.
World oil prices did rise before falling back again but the Macron government raised its hydrocarbon tax this year by 7.6 cents per litre on diesel and 3.9 cents on petrol, as part of a campaign for cleaner cars and fuel.
The decision to impose a further increase of 6.5 cents on diesel and 2.9 cents on petrol on 1 January 2019 was seen as the final straw.
The president has blamed world oil prices for three-quarters of the price rise. He also said more tax on fossil fuels was needed to fund renewable energy investments.
In another sign of the tension sparked by the protests, a man armed with a tear gas grenade was arrested on Friday in western France.
He had been demanding protesters be granted a meeting with President Macron.
The 45-year-old, wearing a yellow jacket, was confronted in a car wash in the town of Angers but surrendered to police after several hours of negotiations.
Why wear yellow jackets?
All drivers in France have to carry the jackets in their cars as part of safety equipment for use in a breakdown.
Along with the familiar red florescent triangle which must be placed behind a broken-down vehicle on the side of a road, the high-visibility jacket – or "gilet jaune" – must be worn by the driver outside the car.
Failure to wear the jacket after a breakdown or accident can result in a €135 (£120; $153) fine under a law introduced in 2008.
Synonymous with driving, the jackets have now morphed into the uniform of the movement against higher fuel costs.
Feeling ignored
Analysis by Hugh Schofield, BBC News, Paris
This is a protest from the social media age, which means there are no real leaders, no real demands and no-one is quite sure how many will turn up or where in Paris.
They've been offered rallying-points by the Eiffel Tower and in two big squares in the east of Paris, but there are fears that without any focus, the protesters could break up into myriad small groups – much harder to manage especially if, as is far from impossible, trouble-makers try to join their ranks.
The protest may be amorphous, but the anger is real enough.
Its heartland is what's become known here as the France of the periphery: that is, the thousands of small towns across the country where people depend heavily on cars to get to work and to shop – and feel their values are ignored by the sophisticated rule makers of the capital.
What happened last weekend?
The widespread protests left two dead and more than 600 injured, according to the interior ministry.
At least 50 people were also arrested, although most of the protests took place without incident.
Several of the injuries and one of the fatalities came when drivers tried to force their way through protesters.
The second death was that of a male demonstrator on a motorbike who collided with a lorry.