Paris driver jailed for tourist taxi scam
http://www.bbc.co.uk/news/world-europe-46316325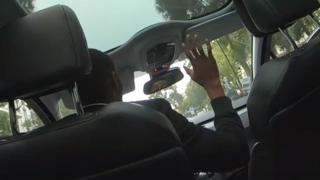 A Paris court has jailed a fake taxi driver for eight months for demanding that a Thai couple pay €247 (£219; $281) for a trip from the airport.
The tourists' video of their argument with him went viral on YouTube. A ride from Roissy Charles de Gaulle airport to central Paris usually costs €45-55.
The couple offered to pay him €200 provided he let them out.
Identified only as Enock C, the driver was found guilty of fraud and extortion involving threats.
In the video he claimed to be working for a private taxi service – known as VTC in French – called Chauffeur Privé.
As he insisted on payment of €247 the Thai couple urged him to unlock the rear doors and let them out at a police station.
'Pay me!'
When the Thai man, Charkrid Thanhachartyothin, asked to see his licence the driver showed them a document.
But when questioned in court about the taxi fare the driver said "I know nothing about that, I'm not a taxi."
Le Parisien news website said the VTC drivers' network confirmed that Enock C was not VTC-registered.
In the YouTube video the driver got aggressive towards the Thai tourists when they offered him €180.
"You pay me 200 euros!" he shouted, "you pay me!"
In a post on 9 November under the video Mr Charkrid wrote that "the fraud taxi attacked on my phone which bumped into my face while I was trying to take a photo".
"He was driving around while fast while we were calling the police. After an unsuccessful negotiation, and take a lot of time, we are tired and decided to pay him 200 euros to get out. (He locked the door) and we finally can get out."
Paris taxis – the rules
The official Paris tourism website – Parisinfo.com – explains that licensed taxis in Paris – which come in various colours – must have the following:
A roof sign saying "Taxi Parisien", with three small lights underneath labelled A, B, C, to indicate the current tariff, which depends on the time of day
A meter on display, showing the cost of the journey
A display at the rear of the taxi which enables monitoring of its daily use
A plate on the taxi's front right wing showing the licence number.
Paris has more than 17,000 such taxis. But there are also VTC vehicles run by private taxi firms, which have to be booked in advance. The VTC can be a minibus or limousine, and the fare is agreed upon booking.