US man killed by arrow-wielding tribe
http://www.bbc.co.uk/news/world-asia-india-46286215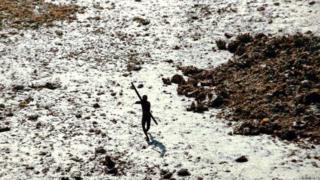 An American tourist is reported to have been killed by an endangered tribe in India's Andaman and Nicobar islands.
Fishermen who took the man to North Sentinel island says tribespeople shot him with bows and arrows and left his body on the beach.
Local media say he was a missionary. He has been identified as John Allen Chau.
Contact with indigenous Andaman tribes living in isolation from the world is illegal. Estimates say the Sentinelese number between only about 50 and 150.
Seven fishermen have been arrested for illegally ferrying the American to the island, police say.
Local media have reported that he wanted to meet the tribe to preach Christianity to them.
"Police said Chau had previously visited North Sentinel island about four or five times with the help of local fishermen," senior journalist Subir Bhaumik told BBC Hindi.
"The number of people belonging to the Sentinelese tribe is so low, they don't even understand how to use money. It's in fact illegal to have any sort of contact with them."
In 2017, the Indian government also said taking photographs or making videos of the aboriginal Andaman tribes would be punishable with imprisonment of up to three years.
The AFP news agency quoted a source as saying that Chau had tried and failed to reach the island on 14 November. But then he tried again two days later.
"He was attacked by arrows but he continued walking. The fishermen saw the tribals tying a rope around his neck and dragging his body. They were scared and fled," the report added.
Chau's body was spotted on 20 November.
"It's a difficult case for the police," says Mr Bhaumik. "You can't even arrest the Sentinelese."
Many global organisations like London-based Survival International have been campaigning to save several tribes who may have lived in the Andamans for more than 60,000 years.
The two endangered aboriginal Andaman tribes – the Jarawa and the Sentinelese – are hunter-gatherers, and contact with the outside world would put them at risk of contracting disease.
The Sentinelese are particularly vulnerable: their complete isolation means they are likely to have no immunity to even common illnesses such as flu and measles.