Chicago hospital shooting victims mourned
http://www.bbc.co.uk/news/world-us-canada-46280181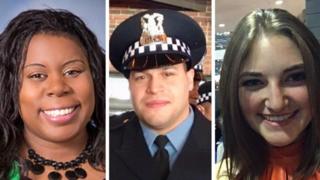 Tributes have been paid to three people shot dead in a Chicago hospital by a gunman who targeted his former fiancée.
The suspect killed a doctor, a pharmacist and a police officer at Mercy Hospital on Monday afternoon.
Dr Tamara O'Neal, who had been in a relationship with the suspect, had worked all her life to save the lives of fellow Chicagoans, colleagues say.
Officer Samuel Jimenez, who also died, is being praised as a hero by hospital and city officials.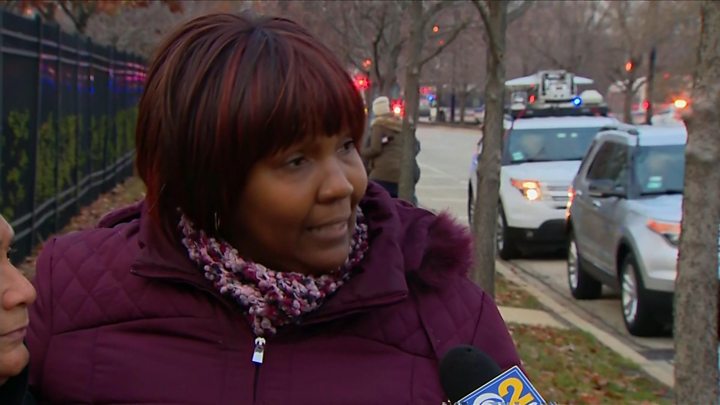 Dr John Purakal, a professor of emergency medicine at the University of Chicago, said he had tried in vain to save Dr O'Neal's life.
"I knew her, trained with her, saved lives with her and tonight, tried to save her life," he wrote on Twitter.
What happened?
The shootings began with an argument in the Mercy Hospital car park between the gunman, 32-year-old Juan Lopez, and Dr O'Neal at about 15:00 local time on Monday.
The gunman opened fire on Dr O'Neal, 38, before shooting at a police car, according to witnesses.
The suspect and Dr O'Neal had been engaged to marry in October, but she reportedly called it off a month beforehand.
Chicago Police Superintendent Eddie Johnson on Monday described that first killing as an act of domestic violence.
The suspect moved into the hospital, shooting at random and killing newly graduated pharmacist Dayna Less, who was getting off a lift at the time.
In an exchange of fire with the gunman, police officer Samuel Jimenez was killed.
A second police officer avoided injury after a bullet fired in his direction became lodged in his gun in his holster.
The suspect also died but it was not immediately clear if he shot himself or was struck by a police officer's bullet.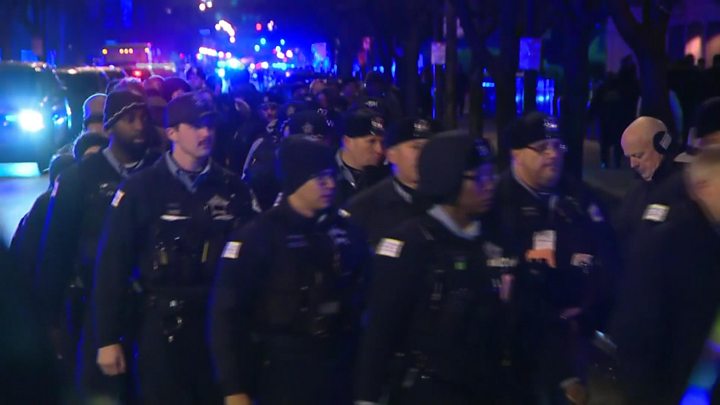 Who were the victims?
Dr O'Neal was an emergency physician at Mercy Hospital on Chicago's South Side.
Dr Patrick Connor, director of the hospital's emergency department, said she had been "dedicated to caring for her community – a wonderful individual".
Dr O'Neal worked two jobs before starting medical college in Chicago, passing her doctorate in 2016.
She had been raising money for disadvantaged children while also leading her church choir.
Dayna Less, 25, joined the hospital in July as a first-year pharmacy resident and was a recent graduate of Purdue University.
She had spent time working at a hospital in Kenya and was planning to marry her childhood sweetheart next June, friends say.
Her family said she had overcome a rare medical condition that caused her debilitating headaches throughout high school.
Her father, Brian Less, told reporters on Tuesday: "She was forged in her own adversity which made her the strongest person I will ever know."
Police officer Samuel Jimenez was a 28-year-old married father of three young children.
"We cannot thank him enough for his courage and bravery today," Dr Connor said.
His body was transported by a police honour cordon to the Cook County Medical Center on Tuesday.
Memorial bunting has been installed in his honour at the Chicago police headquarters.