Trump to visit Californias wildfires
http://www.bbc.co.uk/news/world-us-canada-46248510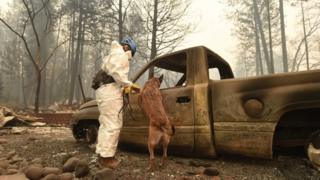 US President Donald Trump is heading to California to survey the deadliest and most destructive wildfire in the state's history.
The Camp Fire in northern California has killed at least 71 people.
More than 1,000 people are reported to be missing, although officials say that figure could fluctuate.
Leaving for California, Mr Trump again focused on forest management as a cause of the blazes, a claim that has been disputed by experts.
On top of the Camp Fire, firefighters are also tackling several other blazes, including the Woolsey Fire near Los Angeles which has claimed at least three lives.
And adding to the misery, scores of people have become sick after outbreaks of the norovirus at shelters and the air quality in northern California has been rated the world's worst.
Heavy rain is forecast next week that could douse the flames but also bring mudslides and floods on hillsides stripped of vegetation.
What's the latest on the Camp Fire?
The death toll rose to 71 on Friday after seven more bodies were found in the town of Paradise, which has been all but destroyed by the fire.
Military troops are assisting forensics teams and cadaver dogs as they continue to search for human remains eight days on after the Camp Fire first broke out.
Butte County Sheriff Kory Honea put the number of people unaccounted for at 1,011, a sharp leap from the 631 reported just 24 hours earlier.
However, he described the list as "dynamic",
"The information I am providing you is raw data and we find there is the likely possibility that the list contains duplicate names," he said.
Some of those on the list may be fine but unaware they have been reported missing, or unable to call, authorities say.
The Camp Fire is now about 50% contained but fire officials say they may not have it fully under control until the end of the month.
What kind of welcome will the president get?
Mr Trump is due to meet survivors and firefighters involved in tacking the blaze when he touches down.
Asked on Fox News if he thought climate change had contributed to the wildfires, he said "Maybe it contributes a little bit. The big problem we have is management."
California Governor Jerry Brown, who has criticised this argument as simplistic, said he would welcome the president to the state.
"Now is a time to pull together for the people of California," he tweeted.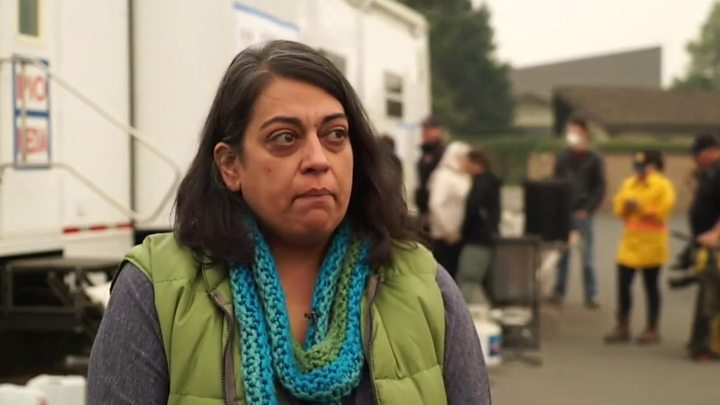 Others suggested the president faced a difficult reception. One woman who voted for Mr Trump and was forced to flee Paradise said she disagreed with his assessment.
"I would tell him that this fire has nothing to do with forest mismanagement. Thousands and thousands of homes got destroyed with no trees around," Roslyn Roberts told Reuters.
Another woman, living in a shelter, told Associated Press: "If you insult people, then you go visit them, how do you think you're going to be accepted? You're not going to have a parade."
Historically, California's "wildfire season" started in summer and ran into early autumn – but experts have warned that the risk is now year-round.
Low humidity, warm winds, and dry ground after a rain-free month have produced a prime fire-spreading environment.
---
Have you been affected by the wildfires? If it is safe to do so please get in touch. Email haveyoursay@bbc.co.uk.
Please include a contact number if you are willing to speak to a BBC journalist. You can also contact us in the following ways: