Trump answers Mueller Russia questions
http://www.bbc.co.uk/news/world-us-canada-46243752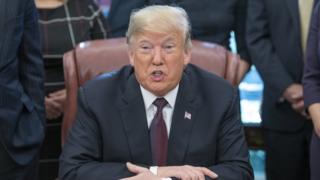 Donald Trump says he has finished answering questions into alleged Russian meddling during the 2016 presidential campaign.
The US leader told reporters he had personally answered the questions "very easily", but that they had yet to be submitted to Robert Mueller's team.
Mr Mueller has been looking into allegations of collusion between Mr Trump's campaign and Russia since 2017.
Mr Trump strongly denies any collusion, calling the probe "a witch hunt".
On Thursday, he took to Twitter to describe Mr Mueller as "conflicted", called the investigation "absolutely nuts", adding that those involved in the long-running probe "are a disgrace to our nation".
The tweets came a week after he forced the resignation of Attorney General Jeff Sessions, replacing him with Matthew Whitaker, who now has the power to sack Mr Mueller or end the investigation.
Speaking to reporters on Friday, he said the investigation had wasted "millions and millions of dollars" and "should never have taken place".
Mr Trump also suggested the people who wrote the questions he agreed to answer "probably have bad intentions".
"I'm sure they're tricked-up because, you know, they like to catch people," Mr Trump said, after making it clear he had written the answers to the questions.
"My lawyers don't write answers. I write answers," he said. "I was asked a series of questions. I've answered them very easily."
Exactly what the questions covered is not known. However, Mr Trump's lawyer Rudy Giuliani told the Washington Post on Thursday he had not answered questions relating to the period after his election, saying some were "possible traps", while others were "unnecessary" or "irrelevant".
What is behind the Russia investigation?
In 2016, US intelligence agencies concluded that Russia had used a state-authorised campaign of cyber attacks and fake news stories planted on social media in an attempt to turn the election against Democrat candidate Hillary Clinton.
A team of investigators led by Mr Mueller is looking into whether anyone from Mr Trump's campaign colluded in the effort.
It has been established that senior members of Mr Trump's team met Russian officials, and that several of these meetings were not initially disclosed.
The president's son, Donald Trump Jr, met a Russian lawyer during the campaign who was said to have "dirt" on Mrs Clinton, and former adviser George Papadopoulos has admitted lying to the FBI about meetings with alleged go-betweens for Russia.
Four people connected with Mr Trump's campaign and presidency – campaign chairman Paul Manafort, advisers Rick Gates and George Papadopoulos, as well as former national security adviser Michael Flynn – have been charged and further indictments could be issued.
However the US president denies any wrongdoing and no solid evidence has emerged to implicate him.