Argentine submarine imploded, navy confirms
http://www.bbc.co.uk/news/world-latin-america-46248970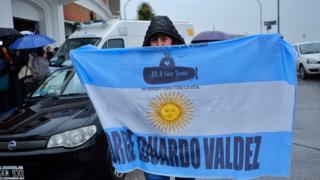 The Argentine submarine, located on the seabed a year after it went missing with 44 crew on board, had imploded, the Argentine navy has confirmed.
The ARA San Juan disappeared 430km (270 miles) off the Argentine coast on 15 November 2017.
Officials announced on Friday that it had been found 900m (2,950ft) below the surface of the Atlantic Ocean.
"It appears to be complete, but it obviously imploded," said navy commander Gabriel Attis.
He said the hull was "totally deformed, collapsed and imploded" and debris was scattered over an area of about 70m (229ft).
The wreck was found by the Seabed Constructor, a ship owned by US search firm Ocean Infinity.
After the sub went missing, the Vienna-based Comprehensive Nuclear Test-Ban Treaty Organisation (CTBTO) said it had detected a noise a few hours after the vessel's last contact.
The Argentine navy said at the time it could have been the sound of the sub imploding but this was not confirmed until Saturday.
The exact cause of the implosion has yet to be established.
Yolanda Mendiola, the mother of missing sailor Leandro Cisneros, 28, said families of the crew had been brought together by the navy to learn the latest details.
"We are with the other relatives. They are going to show us the photos. They say that our youngsters are inside," she said.
"We are all destroyed here."
The discovery came a day after relatives had gathered at a sombre ceremony to remember their loved ones. President Mauricio Macri attended and promised to keep up the search for the submarine.
What do we know happened?
The ARA San Juan was returning from a routine mission to Ushuaia, near the southern tip of South America, when it reported an "electrical breakdown".
According to naval commander Gabriel Galeazzi, the submarine surfaced and reported what was described as a "short circuit" in the vessel's batteries.
The sub was ordered to cut its mission short and return to the naval base in Mar del Plata immediately.
The Argentine navy's last contact with the vessel was at approximately 07:30 (10:30 GMT) on 15 November, at which point its captain reportedly confirmed that the crew were well.
Eight days after the sub vanished, the CTBTO – which operates a network of listening posts to monitor nuclear explosions – said that there had been a "hydro-acoustic anomaly" about 30 nautical miles (60km) north of the sub's last-known position at 10:31 (13:31 GMT).
Last year, navy spokesman Enrique Balbi told reporters that water had entered the submarine's snorkel, which can be used to take in air from above the surface when the submarine is submerged.
The saltwater dripped on to a battery tray in the prow, causing the battery to short circuit and to smoulder, he said. The sub had reported the fault and had been ordered back to base but then disappeared.
Argentine authorities later launched a criminal investigation into the disappearance.