Fifteen years for acid attack on model
http://www.bbc.co.uk/news/world-europe-46234083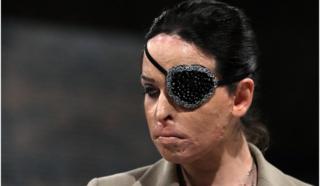 A man who disfigured a former Miss Italy finalist by throwing acid in her face has been jailed for 15 years by an appeal court in Bologna.
Gessica Notaro's ex-boyfriend, Edson Tavares, was originally given a jail term last year but the court decided to combine the case with a conviction for stalking her.
Since the attack Notaro, 29, has spoken out on violence against women.
She has also become a TV celebrity, appearing on a national dance show.
What happened to Gessica Notaro
Months after breaking up with Tavares, the model from the Adriatic resort of Rimini complained to police that she was being stalked and a restraint order was imposed on him.
On 10 January 2017 the aspiring model and singer was doused in hydrochloric acid and badly scarred. She had several operations to reconstruct her face and now wears a patch over her permanently damaged left eye.
For months she was unable to return to her main job as sea-lion trainer at a dolfinarium.
But when she posted images of her bandaged face on social media, her plight caught the public imagination and highlighted violence against women in Italy. She appeared on national TV, where she denounced her former boyfriend.
"I want you to see what he did to me. This isn't love," she said. "While the acid ate away at my face I was on my knees praying to God to take away my beauty but at least leave me with my sight."
Why Tavares' jail term has been reduced
Tavares, aged 30 and from Cape Verde, was convicted last year in two separate trials in Rimini to 10 years for the acid attack and eight years for stalking.
The two convictions meant Tavares would serve a combined term of 18 years in jail.
However, his defence lawyers argued that the two charges should be brought together in one case, with the aim of reducing his overall sentence.
The appeal court in Bologna agreed to combine the cases and ruled that Tavares should serve 15 years, five months and 20 days.
According to Italian media, Notaro's lawyer had urged the court not to lower the 18-year term but said his client was happy with the verdict.
"Gessica is satisfied from a human point of view and me from a judicial view," La Repubblica newspaper quoted Alberto Alessi as saying.
How Notaro rebuilt her life
Now familiar to Italians with her distinctive glittery eyepatch, Gessica Notaro has become a public symbol of the fight against violence against women.
Earlier this year she took part in national TV show Dancing with the Stars and appeared on a chat show last weekend.
"I'm not as strong as I look," she said on Sunday. "I'm a crazy hypochondriac but when something this serious happens to you you have to choose to live or die and I chose to live."