Saudi women in inside-out abaya protest
http://www.bbc.co.uk/news/world-middle-east-46222949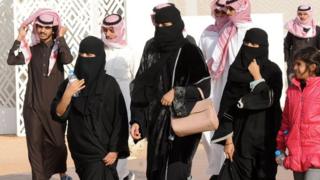 Some Saudi women have launched a protest against the abaya – a long loose-fitting robe used to cover their bodies in public – by saying that they will wear it inside out.
Under the hashtag "inside-out abaya" they have posted pictures of the robe, which they feel under pressure to wear.
In March Crown Prince Mohammed bin Salman said the garment was not a legal requirement.
About 5,000 tweets using the hashtag have been sent, most from Saudi Arabia.
What can Saudi women wear?
The Saudi authorities for decades enforced a strict dress code on women that required them to wear abayas in public, as well as a headscarf if they were Muslim.
But in March the Crown Prince Mohammed bin Salman declared that women only needed to dress modestly and not necessarily wear abayas.
"The laws are very clear and stipulated in the laws of Sharia [Islamic law]: that women wear decent, respectful clothing, like men," he told CBS TV.
"This, however, does not particularly specify a black abaya or black head cover. The decision is entirely left for women to decide what type of decent and respectful attire she chooses to wear."
What have Saudi women been posting?
Twitter user Howra said she would begin wearing the abaya inside out "to protest the customs and state regulations that mean we are under threat if we dare to show our identities".
"We have to work full-time with the niqab [a face veil] and abaya because, the argument goes, the place is mixed. This is a heavy burden for a person to bear," she added.
Twitter user Shafa said she was "enjoying" wearing the garment inside out.
In recent years Saudi women have also begun wearing more colourful abayas that contrast with the traditional black, and open abayas worn over long skirts or jeans are also becoming more common in some parts of the country, Reuters news agency reports.
Last year women were given the right to drive – but many of the female activists who campaigned for it have been arrested under an apparent crackdown on dissent.
Prince Mohammed has since been accused of ordering the murder of Saudi journalist Jamal Khashoggi in Turkey, though Saudi Arabia denies this.
What can Saudi women still not do?
There are many things that Saudi women are unable to do without permission from a male guardian, usually a husband, father, brother or son.
These things include, but are not limited to:
Applying for passports
Travelling abroad
Getting married
Opening a bank account
Starting certain businesses
Getting elective surgery
Leaving prison
The guardianship system has helped create one of the most gender unequal countries in the Middle East.