Monkey kills baby boy in Indian city
http://www.bbc.co.uk/news/world-asia-india-46213304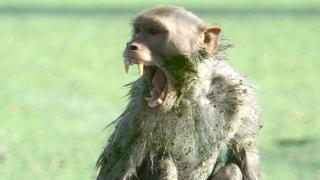 A 12-day-old boy has died after he was snatched from his mother and bitten by a monkey in northern India.
The infant's mother was breastfeeding him at their home in the city of Agra when the animal entered the house and grabbed him.
The monkey dropped the badly bitten child on a neighbour's roof after locals gave chase to the animal.
The baby died of his injuries in a local hospital. Agra is home to India's most famous monument, the Taj Mahal.
The baby's uncle, Dhirendra Kumar, told the BBC that the family was heartbroken.
"There are too many monkeys in the area. We live in fear. We have told the administration so many times to help us but they haven't done anything. The mother of the baby is too distraught to even speak," he said.
Pushpa Devi, the child's grandmother said the family would "never recover" from the loss.
"I have lost my grandson. Just a few hours before the monkey attacked our baby, I had him in my arms. Our baby didn't have to die. People will talk about it for a while and then forget it. But we have to live with the reality that our baby is gone," she said.
Ajay Kaushal, the officer in charge of the nearby police station, told the Reuters news agency that the baby had been badly mauled.
"The monkey bit the infant's head and only dropped him when people chased it with sticks and threw stones at it," he said
This is the latest incident in a series of monkey attacks in the area. Two months earlier, a toddler was attacked by the animals and is recovering in hospital.
In May, two tourists were attacked at the Taj Mahal.
"Monkeys are everywhere in Agra," Shravan Kumar Singh, a local environmental activist told the Reuters.
"They come in search of food, but they snatch and attack as well."
Mr Singh said that monkeys are becoming more aggressive as a result of being displaced from their natural habitats, which have been destroyed by the expanding city.
Some local organisations have been calling for monkeys to be sterilised and excluded from wildlife protection legislation, he added.