Trump lacked decency in Macron attack
http://www.bbc.co.uk/news/world-europe-46212727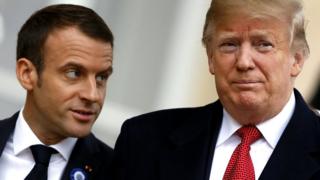 US President Donald Trump's tweets mocking his French counterpart Emmanuel Macron were inappropriate and showed a lack of "common decency", France says.
On Tuesday, Mr Trump attacked Mr Macron over nationalism, plans for a European army and the French leader's ratings.
"We were marking the murder of 130 of our people," French government spokesman Benjamin Griveaux said, referring to the 2015 Paris attacks.
It follows Mr Trump's awkward Armistice Day visit to Paris over the weekend.
Mr Griveaux said 13 November was a date for France to mark the tragic incidents of three years ago in Paris and Saint-Denis, when co-ordinated suicide bombings and mass shootings killed 130 people and wounded hundreds more.
"So I will reply in English: 'common decency' would have been the appropriate thing," he told reporters on Wednesday.
In a series of earlier tweets, Mr Trump launched an attack on Mr Macron over his "very low approval rating" and issued a gibe at France's defeat and occupation by Nazi Germany in World War Two.
Mr Trump also attacked his counterpart over nationalism and took exception to Mr Macron's vision for a "true European military", which the French president said would enable Europe to defend itself against any possible future threats from China, Russia and the US.
It comes after a meeting in Paris on Saturday in which the two appeared to smooth over their differences and agreed that Europe needed to pay more towards its defence costs.
Mr Trump was in France as part of Armistice Day commemorations marking 100 years since the end of World War One.
During his visit, the US president was widely criticised for failing to visit the Aisne-Marne American cemetery, which the White House later said was down to visibility being too poor for his helicopter and Mr Trump not wanting to disrupt the Paris traffic with his motorcade.
The French army appeared to poke fun at Mr Trump over the decision, tweeting an image of an officer crawling under barbed wire in wet weather with the words: "There's rain, but it's no problem."
The French army later claimed the tweet was only meant to be about training.