Lion Air fiancée poses for wedding photos
http://www.bbc.co.uk/news/world-asia-46204053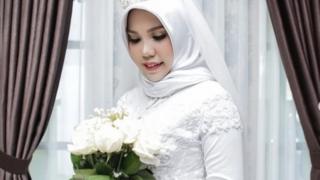 An Indonesian woman whose fiancé was on a Lion Air flight which crashed into the sea has gone ahead with her wedding pictures alone.
Intan Syari and Rio Nanda Pratama were due to get married on 11 November.
But Mr Pratama died as he was coming home for the wedding, when Lion Air flight JT 610 crashed on 29 October shortly after taking off from Jakarta.
Ms Sayari said she wanted to fulfil his last wish, and posed for photos wearing her white gown and wedding ring.
"Even though I feel grief that I cannot describe, I still have to smile for you," the young woman wrote on Instagram. "I cannot be sad but should be strong like you always told me to be."
She said that before he'd left for the flight, Mr Pratama had joked that should he not return in time she should take the pictures and send them to him.
The plane was carrying 189 people from Jakarta to Pangkal Pinang; there were no survivors of the crash and the fuselage of the Boeing 737 has not been found yet.
In earlier posts on her Instagram page, Ms Syari wrote that she'd known her fiancée for 13 years, describing him as her "first love".
The photographer who took the pictures also posted some of them online, explaining the story behind them.
The couple had known each other since middle school, she writes, and explained how they had decided on the clothes for the wedding and the photo shoot just a few weeks before the crash.
Mr Pratama, a medical doctor, had to attend a seminar in Jakarta and before leaving, had joked about what his fiancée would do if he was delayed.
"If I don't return by 11 November, you should still wear your wedding gown that I chose for you," the photographer cites him on her Instagram account.
"Wear beautiful make-up, ask for a white roses. Take good photos and send them to me."
On his way back to their home town of Pangkal Pinang for the wedding, he took the ill-fated flight, which crashed soon after taking off.
There is as yet no indication of what caused the crash but the plane had experienced technical problems related to airspeed and altitude readings on the previous flight.
One of the black box recorders from the flight has been retrieved since but authorities say it could take months to analyse the data from it.