Stars tributes to Marvel genius Stan Lee
http://www.bbc.co.uk/news/entertainment-arts-46186552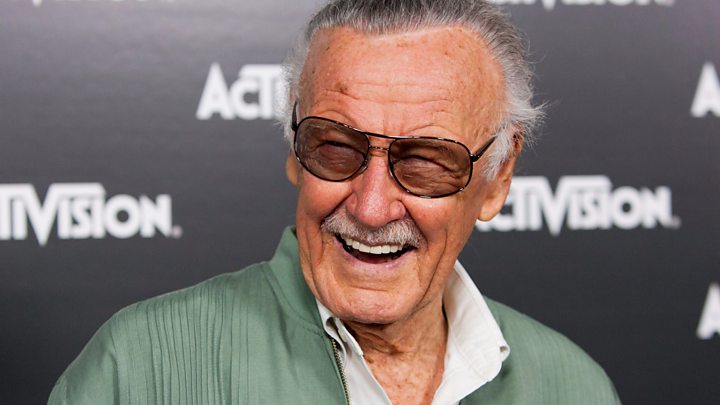 Tributes are being paid to American writer and former president of Marvel Comics Stan Lee, who has died at the age of 95.
Lee created The Fantastic Four for Marvel Comics in 1961 and went on to create titles including Spider-Man and The Incredible Hulk.
Actor Chris Evans, best known for playing Marvel's Captain America, wrote "there will never be another Stan Lee".
X-Men star Hugh Jackman said "we've lost a creative genius."
Robert Downey Jr, who played Iron Man, simply wrote: "I owe it all to you, Rest in Peace Stan."
Kevin Feige, the producer and president of Marvel Studios, tweeted: "No one has had more of an impact on my career and everything we do at Marvel Studios than Stan Lee."
The legendary comic book author died at Cedars Sinai Medical Center in Los Angeles, according to a family lawyer.
Tom Hardy, who stars in Venom, the latest film based on a Marvel Comics character, shared a photo of Lee on set, via Instagram.
Sir Patrick Stewart told Radio 4's Today programme he had met Lee "numerous times".
"He loved to visit the set and he became famous, like Hitchcock, for appearing in his movies," said the actor, who played Professor X in the X-Men series.
"He created flawed heroes and it was one of the things that made X-Men so interesting for all of us who worked on them," he continued.
"We were always very much aware that no matter what our superpowers were, we were human beings, we could make mistakes and things could go wrong. It was that quality which gave humanity to all of Stan's work."
Evangeline Lilly, who portrayed Ant Man's superhero partner, the Wasp, shared a tribute on Twitter.
And Deadpool actor Ryan Reynolds posted: "Damn… RIP Stan. Thanks for everything."
Tom Holland, who is Marvel's latest Spider-Man, wrote that he "was indebted" to Lee.
Other stars to pay tribute include Angela Bassett, Zoe Saldana, Jamie Chung, Josh Groban, Jamie Lee Curtis, Chris Hemsworth, Benedict Cumberbatch, Chris Pratt and Josh Brolin.
Shane Duffy, CEO of Lee's Pow! Entertainment, praised the "father of pop culture" for inventing "universes of characters".
He was, Duffy continued, "a true iconic pioneer with no comparable second."
The Walt Disney Company, which bought Marvel Entertainment in 2009, lauded Lee's "unmatchable" life and career in a statement.
"Every time you open a Marvel comic, Stan will be there," it said. "Please join us today in remembering Stan 'The Man' Lee."
Rival publisher DC Comics also tweeted a tribute.
Broadcaster Jonathan Ross remembered Lee as "an incredible showman" who had "touched so many millions with his work".
"He was also a very warm, very kind and very nice human being," Ross told BBC Breakfast.
Lee's wife, Joan, died in 2017, also aged 95. He is survived by his daughter, JC Lee.
Speaking to celebrity news website TMZ, JC Lee said her father was "the greatest, most decent man".
She told Reuters: "He felt an obligation to his fans to keep creating."
In recent years Lee had periodically suffered from illnesses, including a bout of pneumonia.
He was known for making a cameo in every Marvel film. Despite leaving the Marvel company in 1972, he remained chairman emeritus.
On Sunday – Veterans Day – his official Facebook page shared a photograph of Lee in the Army, noting that his official title during World War II was Playwright.
Who was Stan Lee?
Lee was born in 1922 to working-class Jewish immigrants from Romania.
He began working at the comics section of Martin Goodman's Timely Publications – a company that would eventually transform into Marvel Comics – and became comics editor there at age 18.
For years Lee wrote only simple comics, focusing on crime stories, horrors and westerns and aimed at young readers.
Aged 40, he decided to give up on comics. But his wife Joan urged him to create the characters he always wanted to write as his comic swansong.
In 1961, Lee and artist Jack Kirby created the Fantastic Four – compelling characters with individual personalities and relatable problems.
Timely Publications was renamed Marvel, and the golden age of comic books began.
Many Marvel characters were groundbreaking at the time. For example, Black Panther was the first black superhero featured in a mainstream US comic.
Other characters he created include the Silver Surfer, the X-Men, Iron Man and Doctor Strange.
Lee was also known for giving artists their due credit. Kirby, Frank Miller, John Romita and others achieved cult status in their own right.
In its heyday, Marvel sold 50 million copies a year. Until he retired from editing in 1971, Lee wrote all the copy for Marvel's covers.
Follow us on Facebook, on Twitter @BBCNewsEnts, or on Instagram at bbcnewsents. If you have a story suggestion email entertainment.news@bbc.co.uk.
What are your memories of Stan Lee? If you are willing to share your experiences please email haveyoursay@bbc.co.uk
Please include a contact number if you are willing to speak to a BBC journalist. You can also contact us in the following ways: