Melania calls for White House aides firing
http://www.bbc.co.uk/news/world-us-canada-46202896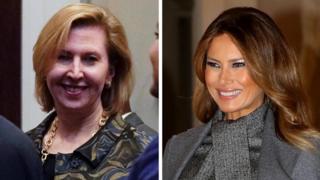 US First Lady Melania Trump has called for a top national security aide to President Donald Trump to be fired.
The first lady feuded with Mira Ricardel, the deputy national security adviser, during her tour of Africa in October, US media report.
"It is the position of the Office of the First Lady that she no longer deserves the honour of serving in this White House," her spokeswoman said.
The White House and the National Security Council has yet to comment.
The statement came as US media reported that Mr Trump was considering a shake up in the White House West Wing, and may be considering removing White House Chief of Staff John Kelly or Department of Homeland Security Secretary Kirstjen Nielsen.
As deputy national security adviser, Mrs Ricardel has served under National Security Advisor John Bolton on the powerful National Security Council for the past seven months.
According to US media reports, Mrs Trump and Mrs Ricardel fell out during the first lady's trip to Africa last month and quarrelled over seating arrangements on her plane.
During her trip there, Mrs Trump told ABC in a rare interview that she gives the president "my honest advice and honest opinions and then he does what he wants to do".
---
An earthquake to come
Analysis by Anthony Zurcher, BBC News, Washington
The long knives are out at the White House.
Behind-the-scenes machinations and off-the-record backstabbing are nothing new in this administration, of course. Practically since inauguration various factions have been vying for political supremacy in the West Wing.
What's different this time around is that the office of First Lady Melania Trump decided to attack a member of the White House staff on the record and in no uncertain terms.
Presidential spouses do have a long history of involving themselves in White House staffing issues. Nancy Reagan, for instance, had an ongoing feud with Chief of Staff Donald Regan. Hillary Clinton frequently sparred with White House aides. It's the kind of thing that never spills quite so openly into view, however.
With the mid-term elections now in the rear-view mirror, the situation in the Trump White House appears to be coming to a head.
The biggest face-off appears to be between two key power centres, Chief of Staff John Kelly and National Security Advisor John Bolton. Everything else, including the situation with Mrs Trump, is cascading from that.
It's a situation that seems difficult to sustain. These are the small tremors of a staffing earthquake to come.
---
The Wall Street Journal had earlier on Tuesday reported that Mrs Trump's team believed Mrs Ricardel was behind some of the "negative stories" about Mrs Trump and her staff.
The newspaper also reported that she repeatedly clashed with US Secretary of Defense James Mattis over "staffing decisions and policy differences".
Mrs Trump's statement, released through her spokeswoman Stephanie Grisham, came hours after she issued a separate statement denying reports of clashes with Mr Kelly, her husband's chief of staff.
"Mrs Trump has a very positive relationship with Chief Kelly and there have never been any issues between the two," Mrs Grisham said.
As the news broke, Mr Trump posted a photo on Twitter of Mrs Ricardel accompanying him at a Diwali ceremony.