Californias deadliest wildfire kills 42
http://www.bbc.co.uk/news/world-us-canada-46190118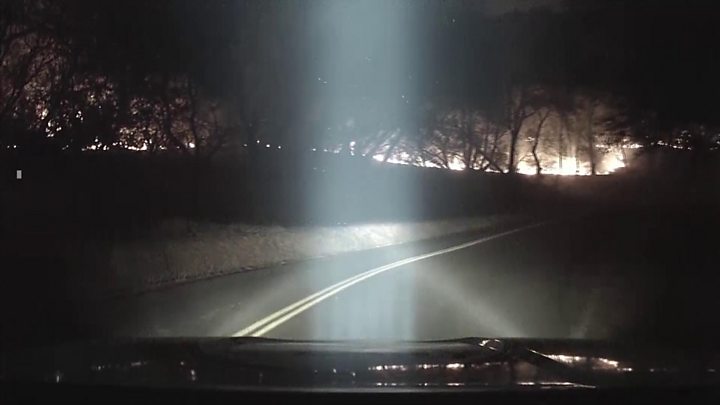 Thirteen more bodies have been recovered in California, bringing the death toll in the US state's deadliest wildfires to 42, officials say.
The remains were found in and around the largely incinerated town of Paradise, in the north of the state.
At least 228 people are missing, as the Camp Fire continues to rage. Nearly 7,200 structures have been destroyed, and another 15,500 are at risk.
The fire has now surpassed the 1933 Griffith Park disaster that killed 31.
In the south, the Woolsey Fire has claimed two lives as it damaged beach resorts, including Malibu.
An estimated 250,000 people have been forced to flee their homes across the state.
Speaking at a news conference on Monday evening, Butte County Sheriff Kory Honea confirmed the number of dead, and the official number of missing.
Many more people are said to be unaccounted for.
How did people die?
Some bodies were found in gutted cars that were overrun by the fast-moving blaze.
Paradise and its surrounding area bore the brunt of the inferno, which started in nearby forest on Thursday.
"It was very scary," Paradise Mayor Jody Jones told CNN, recounting her family's escape from the town.
"It took a long time to get out. There was fire on both sides of the car. You could feel the heat coming in through the car," she said.
Among the victims were also elderly residents with mobility issues or people who decided to stay despite evacuation orders.
Forensic experts are stepping up their search in the ruins of Paradise, but officials warn that finding the bodies could take weeks.
Two mobile army morgues are being brought in to help to identify the dead.
The fire has burned more than 111,000 acres (45,000 hectares) and is nearly 25% contained, fire officials said.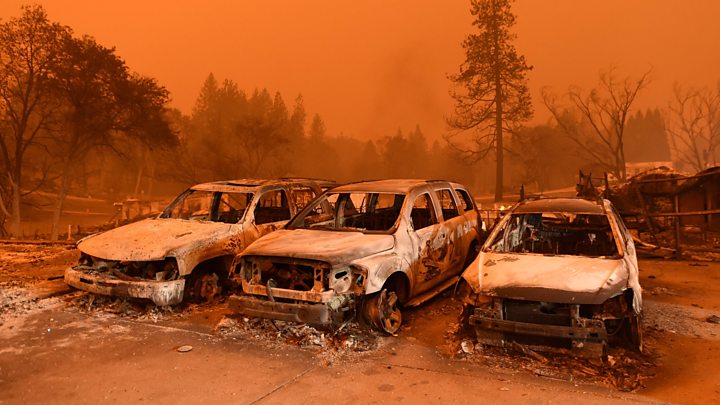 What about further south?
The separate Woosley Blaze started on Thursday near Thousand Oaks, about 40 miles (64km) north-west of central Los Angeles.
It has consumed at least 85,500 acres and destroyed at least 177 buildings, officials said. It is only 10% contained. The smaller Hill Fire, nearby, has scorched 4,530 acres and is 75% contained.
Luxury homes in Malibu and other beach communities are among the properties razed by the flames.
Why are the fires so bad?
Historically, California's "wildfire season" started in summer and ran into early autumn. But experts have warned that the risk is now year-round.
The current fires are being blamed on a combination of climate change and weather conditions.
Low humidity, warm Santa Ana winds, and dry ground after a rain-free month have produced a prime fire-spreading environment.
The state's 40-million-strong population also helps explain the fires' deadliness. That number is almost double what it was in the 1970s, and people are living closer to at-risk forest areas.
And then there's climate change. Recent years have produced record-breaking temperatures, earlier springs, and less reliable rainfall.
Citing the role of a warming climate, Governor Brown declared: "This is not the new normal, this is the new abnormal."
Musician Neil Young made the same link, writing on his website: "I have lost my home before to a California wildfire, now another."
"We are vulnerable because of climate change; the extreme weather events and our extended drought is part of it."
---
Have you been affected by the wildfires? If it is safe to do so please get in touch. Email haveyoursay@bbc.co.uk.
Please include a contact number if you are willing to speak to a BBC journalist. You can also contact us in the following ways: