Marvels Stan Lee dies aged 95
http://www.bbc.co.uk/news/entertainment-arts-46186552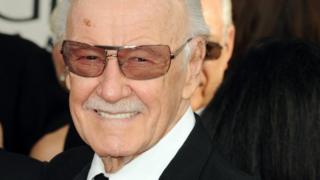 American writer and Marvel Comics co-creator Stan Lee has died at the age of 95.
Lee and Jack Kirby founded the company in 1961, beginning with The Fantastic Four and going on to create titles such as Spider-Man and The Incredible Hulk.
Lee's wife, Joan, died in 2017 – also aged 95 – but he is survived by his daughter, JC Lee.
Speaking to website TMZ, JC said her father was "the greatest, most decent man".
The legendary comic book author died at Cedars Sinai Medical Center in Los Angeles on Monday after a medical emergency, according to Variety magazine.
In recent years, Lee had periodically suffered from illnesses, including a bout of pneumonia, US media reported.
Bob Iger, chairman of the Walt Disney Company, which bought Marvel Comics for $4bn (£2.5bn) in 2009, called Lee "a super hero in his own right" in a statement.
"The scale of his imagination was only exceeded by the size of his heart."
Lee was known for making a cameo in every Marvel film, though he had left the Marvel company in 1972. He remained chairman emeritus.
The Marvel superheroes Lee had a hand in creating, including Iron Man and Captain America, have resulted in some of Hollywood's highest grossing films, with the latest Marvel film, Infinity War, earning over $1.5bn (£1.1bn).
On Sunday, Veteran's Day, his official Facebook page shared a photograph of Lee in the Army, noting his nickname during World War Two was Playwright.
Earlier this year, one of Lee's managers was investigated by Los Angeles Police for allegations of elder abuse. His daughter won a temporary restraining order against the manager in July, US media reported.
Who was Stan Lee?
Lee was born in 1922 to working-class Jewish immigrants from Romania.
He began working at the comics section of Timely Publications – a company that would eventually transform into Marvel Comics – and became comics editor there at age 18.
But for years Lee wrote only simple comics focusing on crime stories, horrors and westerns aimed at young readers.
At age 40, Lee decided to give up on comics. But his wife Joan urged him to create the characters he always wanted to write as his comic swansong.
And in 1961, Lee created the Fantastic Four.