Brexit talks in the endgame, says May
http://www.bbc.co.uk/news/uk-politics-46188790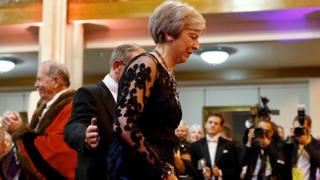 Negotiations over the UK's departure from the EU are "now in the endgame", Theresa May says.
Addressing the Lord Mayor's Banquet in the City of London, the prime minister said the talks were "immensely difficult", but the sides were working "through the night" to make progress.
"This will not be an agreement at any cost," the PM added.
She is under pressure from both sides of the EU debate as she tries to seal a deal in time for Brexit in March.
Both sides want to schedule a special summit of EU leaders at the end of November to sign off the withdrawal deal, but time is running out.
Brussels says it will only agree to put the wheels in motion for the summit if agreement can be reached on the issue of the Irish border.
Several Tory MPs are also unhappy at the expected shape of the deal and have warned it will not get through Parliament.
The unease centres on how the Irish "backstop" – a fallback arrangement to guarantee no new visible border checks – will work.
As well as Leave-supporting Conservative MPs who are worried about the UK being tied to EU rules, some pro-EU Tories also have misgivings.
On Friday, Transport Minister Jo Johnson resigned, saying what was on offer fell "spectacularly short" of what had been promised and calling for another referendum.
'Get on with Brexit'
In her speech on Monday evening, Mrs May said: "The negotiations for our departure are now in the endgame.
"And we are working extremely hard, through the night, to make progress on the remaining issues in the withdrawal agreement, which are significant.
"Both sides want to reach an agreement. But what we are negotiating is immensely difficult.
"I do not shy away from that."
Mrs May said that "overwhelmingly" British people want the government to "get on with delivering Brexit".
"I want them to know that I will not compromise on what people voted for in the referendum," she said.
"This will not be an agreement at any cost."
Jesse Norman has been promoted to replace Jo Johnson in the Department for Transport, Downing Street said.
Mr Norman was previously a junior minister in the department.