Israelis kill Hamas commander in Gaza
http://www.bbc.co.uk/news/world-middle-east-46174912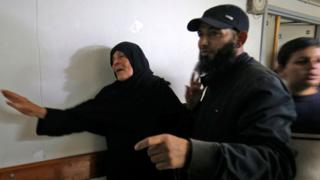 Six people including a local Hamas commander have been killed during an Israeli operation in the Gaza Strip, Palestinian officials say.
They said the clashes took place east of Khan Younis, in the south of the territory.
Israel's military confirmed that there had been an exchange of fire "during operational activity" and said all its soldiers were now back in Israel.
Rocket-warning sirens were later sounded in southern Israel.
Several rockets fired from Gaza were shot down and at least one landed in a field in Israel, local officials said.
Israeli Prime Minister Benjamin Netanyahu decided to cut short his visit to Paris for events to mark the 100th anniversary of the end of World War One and return on Sunday evening, his office said in a statement.
A spokesman for Hamas, the militant Islamist group that dominates Gaza, described the incident as a "cowardly Israeli attack".
The senior militant killed was named as Sheikh Nur Barakeh, a commander of the Izzedine al-Qassam brigades, the Hamas military wing, in Khan Younis.
Hamas said Israeli special forces fired from a car around 3km (2 miles) inside the Gaza Strip.
An exchange of fire then broke out, with witnesses reporting tank shelling and explosions from Israeli airstrikes in the area.
BBC Middle East correspondent Tom Bateman says that such a reported operation by Israeli special forces inside Gaza would be extremely rare and comes after apparent progress in an Egyptian- and UN-brokered process to mediate after a series of escalations between the two sides in recent months.
Tensions between Israel and Hamas have soared in recent months.
Rocket-fire from Gaza and Israel air strikes against militant targets have been a regular occurrence.
More than 200 Palestinians in Gaza have been killed by Israeli forces since the end of March – most during weekly protests along the border at which thousands have expressed their support for the declared right of Palestinian refugees to return to their ancestral homes in what is now Israel.
One Israeli soldier was killed on the Gaza-Israel border by a Palestinian sniper during the same period.