Armistice Day events held around the world
http://www.bbc.co.uk/news/world-46168105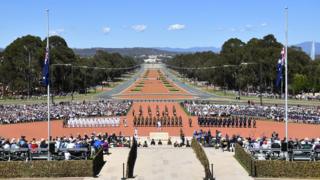 Commemorations are under way around the globe to mark the centenary of the Armistice that ended World War One.
In Australia, a ceremony was held at the National War Memorial in Canberra, while in Adelaide an aircraft dropped thousands of red paper poppies.
In New Zealand, a gun salute took place in the capital, Wellington.
The main European ceremony will be held in Paris, with US President Donald Trump and Russian President Vladimir Putin among those set to attend.
Meanwhile in the UK, a series of special events are being held to mark the end of the 1914-18 conflict.
For the first time, members of the public chosen by ballot will pay their respects at the national memorial in Whitehall, central London.
The events begin in the south
During his speech in Canberra, Australian Prime Minister Scott Morrison spoke of the importance of remembrance, saying people need "to learn from the past so that we can better navigate the changing currents of our own times, for our own children, and for the next generations".
Australian and New Zealand forces sustained huge loss of life in the 1915 Gallipoli campaign.
In New Zealand, the traditional two minutes of silence at 11:00 were followed by a 100-gun salute on the Wellington waterfront, while church bells rang across the country. Cars and ships blared their horns and emergency services sounded their sirens.
"The carillon and roaring chorus has recaptured the wave of spontaneous jubilation and hope which swept New Zealand when news of the Armistice broke," Prime Minister Jacinda Ardern told crowds at the National War Memorial in Wellington.
World leaders meet in Paris
The focus will switch to Europe later on Sunday, where about 70 world leaders are gathering in Paris for remembrance events.
French President Emmanuel Macron will lead the main event of the centenary – a sombre commemoration at the Tomb of the Unknown Soldier, a memorial to France's fallen under the Arc de Triomphe in Paris.
Sunday afternoon will see Mr Macron and German Chancellor Angela Merkel attend a peace conference – the Paris Peace Forum – with leaders including Russian President Vladimir Putin and Turkey's Recep Tayyip Erdogan.
On Saturday, Mr Macron and Mrs Merkel visited the town of Compiègne in northern France. They signed a book of remembrance in a railway carriage identical to the one in which the 1918 Armistice was sealed.
President Trump, however, caused controversy by cancelling a trip to a cemetery for the war dead because of bad weather.
A group of around 50 activist organisations plan to hold a demonstration in Paris later on Sunday in protest against the US leader's visit.
The Armistice 100 years on
Long read: The forgotten female soldier on the forgotten frontline
Video: War footage brought alive in colour
Interactive: What would you have done between 1914 and 1918?
Living history: Why 'indecent' Armistice Day parties ended