Trump-Macron spat ahead of WWI visit
http://www.bbc.co.uk/news/world-europe-46162052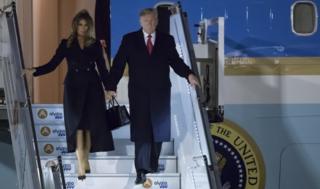 President Donald Trump has lashed out at his French counterpart Emmanuel Macron, after arriving in Paris to commemorate the end of World War One.
On Twitter, Mr Trump said it was "very insulting" that his host had called for a joint EU army to handle threats from the US, China and Russia.
Mr Macron said on Tuesday that Europe "had to protect itself".
The two men will meet for scheduled talks on Saturday morning ahead of events commemorating the 1914-18 war.
Around 70 world leaders are gathering in Paris for events marking the Armistice that ended World War One, which was signed 100 years ago this Sunday.
What did Macron say?
President Macron has previously warned that Europeans can no longer rely on the US to defend them, and returned to the theme on Tuesday during a visit to the former Western Front in Verdun.
"We have to protect ourselves with respect to China, Russia and even the United States of America," he told French radio station Europe 1.
"Who is the main victim? Europe and its security. I want to build a real security dialogue with Russia, which is a country I respect, a European country – but we must have a Europe that can defend itself on its own without relying only on the United States."
Russia's President Vladimir Putin will be among world leaders marking the Armistice in Paris.
President Trump's Friday night rebuke read: "President Macron of France has just suggested that Europe build its own military in order to protect itself from the US, China and Russia. Very insulting, but perhaps Europe should first pay its fair share of NATO, which the US subsidizes greatly!"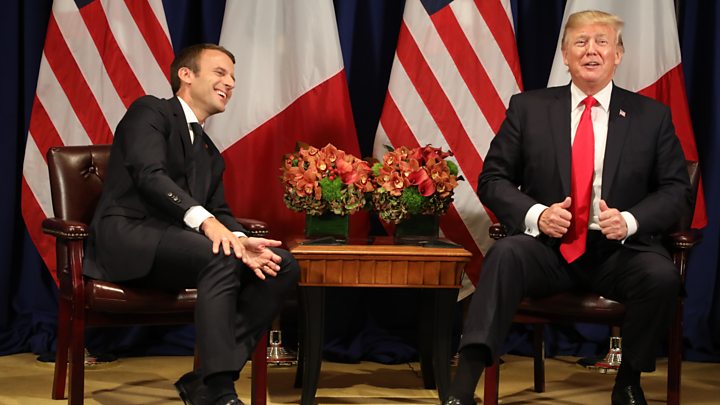 Mr Macron has already raised defence spending considerably to meet Nato targets.
He is also overseeing the formation of a European rapid reaction force, a nine-country endeavour much smaller than an actual army, which is backed by Germany and the UK.
What's the weekend line-up?
Trump and Macron are slated to hold talks on issues including Yemen, Syria and Iran, before their wives Melania and Brigitte join them for lunch.
On Saturday afternoon, Mr Macron will meet Germany's Chancellor Angela Merkel in the town of Compiegne in northern France, where the Allies and Germany signed the Armistice.
Visiting heads of state will gather for a dinner in Paris in the evening.
Donald Trump is expected to visit two American cemeteries over the weekend, ahead of a sombre commemoration at the Tomb of the Unknown Soldier, a memorial to France's fallen under the Arc de Triomphe in Paris.
Tweeting early on Saturday morning, he remarked: "Is there anything better to celebrate than the end of a war, in particular that one, which was one of the bloodiest and worst of all time?"
Sunday afternoon will see Mr Macron and Mrs Merkel attend a peace conference – the Paris Peace Forum – with leaders including Mr Putin and Turkey's Recep Tayyip Erdogan.
Mr Trump is not attending, however, which his National Security Advisor John Bolton put down to a diary full of "pressing issues".
The Armistice 100 years on
Long read: The forgotten female soldier on the forgotten frontline
Video: War footage brought alive in colour
Interactive: What would you have done between 1914 and 1918?
Living history: Why 'indecent' Armistice Day parties ended
Will Trump meet Putin?
The status of this proposed meeting has changed repeatedly in recent weeks.
On Wednesday the Kremlin said the pair would hold a "short working lunch" at the Élysée Palace in Paris, but the US contradicted that the same day.
"I don't think we have anything scheduled in Paris and I'm coming back very quickly," the president said. "I don't think we have time set aside for that meeting."
The two men may meet at a lunch for world leaders on Sunday, but it remains to be seen if a more formal discussion will ultimately materialise.