Florida orders mid-term vote recounts
http://www.bbc.co.uk/news/world-us-canada-46166980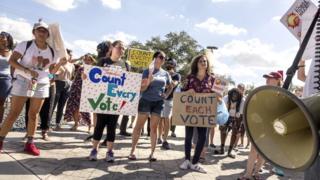 Florida has ordered a machine recount of votes for state governor and senator following Tuesday's closely fought mid-term elections, officials say.
Florida Secretary of State Ken Detzner said that as unofficial results in both races had fallen within a margin of 0.5%, a recount was required by law.
The two ballots are among the most important yet to be decided.
US President Donald Trump responded to the news by accusing Democrats of trying to "steal" the elections.
In the race for Florida's Senate seat, unofficial results revealed a gap of just 0.15% between the votes for Democrat Bill Nelson and Republican Rick Scott.
Democrat Andrew Gillum had already conceded the state governorship, but Ron DeSantis' lead for the Republicans later narrowed to 0.41%.
Mr Trump had earlier said there was "a lot of dishonesty" over contested votes.
He added that Florida's Broward County local election supervisor Brenda Snipes, a Democrat, had a "horrible history" of "finding votes out of nowhere".
Some candidates have already launched legal action – Mr Scott, who claimed victory on Tuesday, is suing officials over an election recount, while Mr Nelson is suing over uncounted ballots – and there have also been a number of protests outside the elections office.
Mr Trump told reporters on Friday, before leaving for Paris to commemorate the 100th anniversary of the end of World War One, he believed that Mr Scott had clearly won the election.
The president said he would send his lawyers to Florida "to expose the fraud", calling the Nelson campaign's recount lawyer Marc Elias an election stealer.
Florida has a history with close elections. In 2000, George W Bush and Al Gore faced an impasse with the presidential vote hanging in the balance amid weeks of legal wrangling.
Mr Gore's fate was finally sealed by a US Supreme Court ruling that said in essence that time had run out for recounts in the crucial state, granting Mr Bush the presidency.