Trump wades into Florida election chaos
http://www.bbc.co.uk/news/world-us-canada-46157966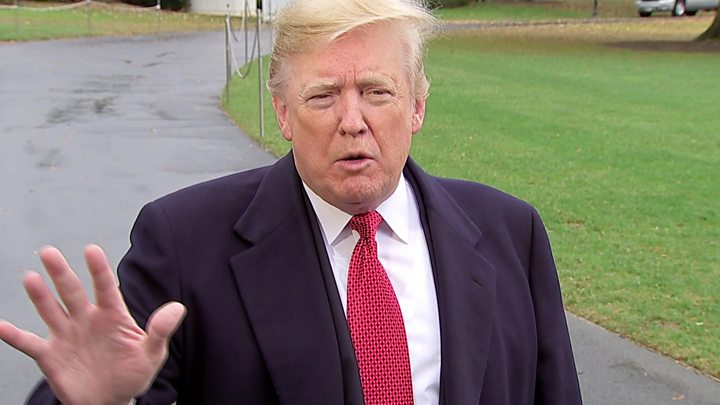 President Donald Trump has lambasted Florida's election recount process, calling it an attempt by Democrats to win a US Senate seat with fake votes.
Mr Trump told reporters "there's a lot of dishonesty" over contested votes in Broward County, but there has been no evidence of voter fraud.
Republican Rick Scott, who claimed victory on Tuesday, is suing officials over an election recount.
His opponent, Bill Nelson, is also suing the state over uncounted ballots.
The gap between Mr Scott – the outgoing governor of Florida – and incumbent Democratic Senator Nelson has narrowed to 0.2% as of Friday as Broward County votes are counted.
The county, which is part of the greater Miami metropolitan area, is known to be a Democratic region of the Republican-leaning state.
"Rick Scott was up by 50,000+ votes on Election Day, now they 'found' many votes and he is only up 15,000 votes," Mr Trump tweeted on Friday. "How come they never find Republican votes?"
A history Trump didn't mention
Tara McKelvey, BBC News White House Reporter
Trump wanted to talk. With Marine One waiting for him on the lawn, he headed over to a spot near the White House where I was standing – along with my colleagues. The president was – as one reporter near me said – "on fire".
When another journalist asked about the Florida race, Trump lit into the subject, telling us about "bad things" that have gone on in Broward County, Florida, the place where votes are being counted in a Senate race between Republican Rick Scott and Democrat Bill Nelson. Earlier Scott said he'd won. Now the electoral gap's narrowing, and the president is not pleased.
There's a history behind Florida recounts, though, one that the president didn't mention. In 2000, George W Bush and Al Gore faced an epic impasse – with lawyers. Then Bush became president, while Democrats steamed.
Today the president acted as if that'd never happened. For some Democrats, though, the wound's still there. For them, the president's tone about a disputed Florida race is hard to take.
Before leaving for Paris to commemorate the 100th anniversary of the end of WWI on Friday, Mr Trump told reporters he believes Mr Scott clearly won the election.
He said that local election supervisor Brenda Snipes, a Democrat, has a "horrible history" and is "finding votes out of nowhere".
The president's comments followed the news of Mr Scott's lawsuit against Ms Snipes and another Democrat, Palm Beach Supervisor of Elections Susan Bucher.
His lawsuit, announced on Thursday night, claims the election officials did not provide enough information and transparency around uncounted ballots.
"I will not stand idly by while unethical liberals try to steal an election," Mr Scott said during a news conference.
"Tonight I am asking the Florida Department of Law Enforcement to investigate this immediately and I am considering every single legal option available."
Mr Trump said on Friday he would also send his lawyers to Florida "to expose the fraud", calling the Nelson campaign's recount lawyer Marc Elias an election stealer.
Senator Nelson filed his own lawsuit on Friday against the Florida secretary of state in order to ensure all provisional and mail-in ballots that were initially disregarded due to signature mismatches are validated in the recount.
Senator Marco Rubio, another Florida Republican, has also been an outspoken critic of the recount process, tweeting repeatedly about the controversy and earning Mr Trump's praise.
"Why can't Broward County elections do what 65 of 67 counties did, count all votes in timely way and in compliance with Florida law?" he asked in one tweet.
The president has also called out Florida's contentious race for governor between Democrat Andrew Gillum and Republican Ron DeSantis.
On Thursday morning, Mr Gillum's team walked back his earlier concession to Republican Mr DeSantis and indicated they are ready for a recount. Mr Gillum trails Mr DeSantis by fewer than 50,000 votes.
However, the Associated Press is reporting that Mr DeSantis has won the election.
On Twitter, Mr Trump weighed in briefly on Georgia's ongoing election, where another Republican claimed victory on Tuesday before ballots were completely counted.
"You mean they are just now finding votes in Florida and Georgia – but the Election was on Tuesday? Let's blame the Russians and demand an immediate apology from President Putin!"