California wildfire advances on Malibu
http://www.bbc.co.uk/news/world-us-canada-46155767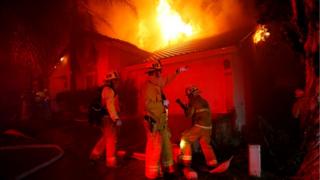 Thousands of residents just outside Los Angeles have been ordered to evacuate immediately as a massive wildfire advances, fanned by strong winds.
The blaze, known as the Woolsey Fire, is spreading south, has jumped a major highway and is now threatening coastal areas including parts of Malibu.
However there were no immediate reports of deaths or serious injuries.
Another blaze in northern California has destroyed one town and is threatening another, officials say.
Scott Maclean, the state's forestry and fire protection spokesman, said a number of civilians and firefighters had been injured in the fire north of Sacramento but it would be days before the authorities knew whether anyone had died.
Where is the Woolsey Fire spreading to?
The blaze has spread rapidly overnight, fanned by strong winds, and has jumped Highway 101, a major route west of Los Angeles.
The flames are now threatening coastal areas further south, fire officials said.
The fire broke out near Thousand Oaks, an area about 40 miles (64 km) northwest of downtown Los Angeles where an attacker killed 12 people on Wednesday, prompting the evacuation of 75,000 homes.
Residents have now been ordered to evacuate from several more towns to the west of Thousand Oaks, including Calabasas immediately south of Highway 101 and Malibu on the coast, as well as from the western edge of Los Angeles.
Calabasas and Malibu are home to numerous celebrities and some have been posting on social media, including reality TV star Kim Kardashian. On Instagram she urged people to "pray for Calabasas". "Just landed back home and had one hour to pack up and evacuate our home. I pray everyone is safe," she wrote.
What is happening in northern California?
The 20,000 acre (8,100 hectare) Camp Fire, which started on Thursday near Camp Creek, is being driven west by 35 mph (56 kmh) winds, fire officials said.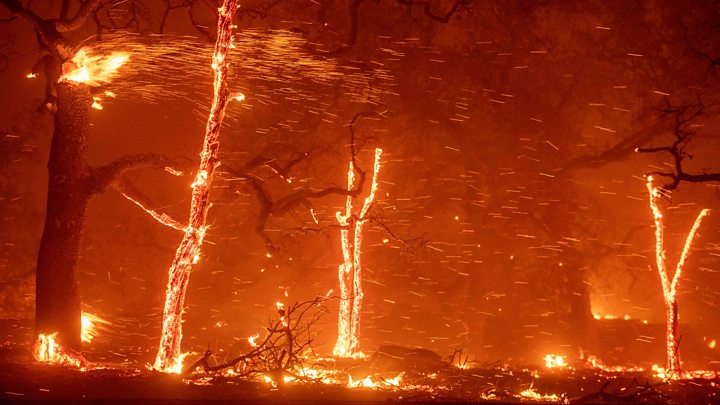 Fire officials have issued evacuation notices for parts of Chico, a town of 93,000 people north of Sacramento.
Earlier, the fire devastated the town of Paradise in the Sierra foothills, home to 26,000 people.
"There's nothing left standing," said Mr Maclean.
Thousands were evacuated, including from schools and hospitals.
Accidents gridlocked routes out of Paradise and residents abandoned their cars and fled on foot carrying children and pets, Reuters quoted local officials as saying.
Rescuers used a bulldozer to push abandoned cars out of the way in order to reach a hospital and evacuate patients as the fire engulfed the building, Butte County Supervisor Doug Teeter said.
The two blazes are among 16 currently active fires in California. Officials have put most of Northern California under a Red Flag Warning, which means "extreme fire behaviour" can occur within 24 hours.
The region has grappled with serious wildfires – including the worst in the state's history, the Mendocino and Thomas fires – on and off since 2017.
---
Are you in the area or have you been evacuated? If it's safe to share your experiences then please email haveyoursay@bbc.co.uk.
Please include a contact number if you are willing to speak to a BBC journalist. You can also contact us in the following ways: