Warship collides with tanker in fjord
http://www.bbc.co.uk/news/world-europe-46136564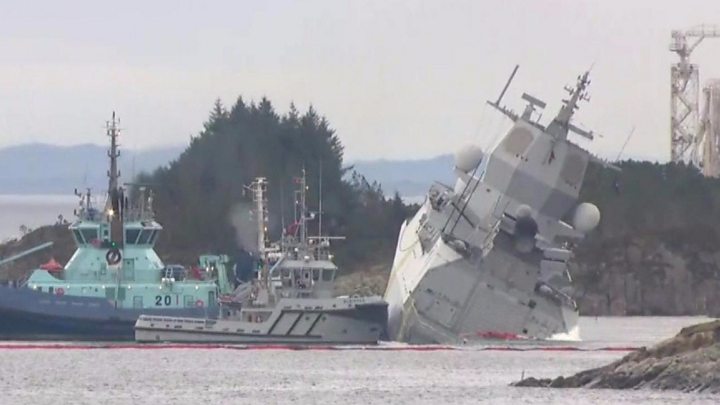 Norway has evacuated all 137 crew from one of its warships after it collided in a fjord with a Maltese oil tanker.
Eight people were lightly injured in the collision in the Hjeltefjord near Bergen. The KNM Helge Ingstad frigate has been listing dangerously.
The warship had been returning from Nato military exercises. The tanker, the Sola TS, was slightly damaged and it appears that it did not spill oil.
The incident led to the shutdown of a major oil terminal and a gas plant.
What is known about Thursday's incident?
The two vessels collided at about 04:00 local time (03:00 GMT) as the frigate was sailing inner fjords for training, officials say.
The tanker had already left Equinor's Sture oil terminal with a cargo of North Sea crude, Reuters news agency reports.
"Due to the damage to the frigate it was moved to a safe place," Nato's Allied Maritime Command said in a statement.
The tanker, which has a crew of 23, returned to port for inspection.
It was not immediately clear what had caused the collision.
What about economic damage?
The Sture export oil terminal, as well as the Kollsnes gas plant and several offshore oilfields, were shut down as a precaution but resumed operation on Thursday afternoon, Equinor said in a statement.
The Sture terminal is a major tanker port, with almost 25% of Norway's oil production passing through the facility.
Meanwhile, the Kollsnes plant processes gas from several fields for a number of European countries, including the UK.
It was not immediately known how the temporary closure of the facilities would impact on wholesale gas prices.
An unnamed official told AFP news agency that a "small oil slick" had been detected from the frigate.
"It took on a lot of water and there is a real danger that it sinks where it is," the official said.